January 29, 2009
January 27, 2009
Amsterdam Hercules Dazzlingly In Love
For shortly into their thoroughly entertaining mounting of this 17th Century rarity, our leading bass-baritone morphed from a Louis Quatorze persona into a quasi-cartoonish hero by strapping on muscled legs, arms and torso (think: comic Ninja Warrior padded outfits), stringy blond wig, and knee high black platform boots. Oh, yeah, and brandished a Flintstone style club.
Luca Pisaroni gave a consistently animated impersonation as Ercole (Hercules), narcissistically mugging, and grimacing orgasmically enough that he may have a future in porn should his skyrocketing international opera career stall. He clearly relished the goof on contemporary hero worship, and all the while sang most mellifluously and, when required, forcefully. Mr. Pisaroni may not have the booming low notes of some, but his is a fine, well-projected voice with a sound technique, and (sans padding) he has a lean, handsome stage presence.
His achievement was equaled by the elegant Giunone (Juno) of Anna Bonitatibusnoa, an audience favorite who appeared as a sleek, gliding "Woman in Black." She deployed her rich-hued, earthy instrument to marvelous effect, forging an uncommonly affecting presentation of the opera's go-to girl.
Jeremy Ovenden's Illo (Illus), Herc's son, is got up as a cross between Blue Boy and Buster Brown, and the lyric tenor indeed delivered on the visuals with a boyish, cleanly sung performance. Having admired his Orfeo last season, I still have the feeling that in spite of his eminently pleasing tone, stylistic command, and total commitment, he is not naturally a creature of the stage.
Not so the engaging Tim Mead, a real discovery to me, who did double duty as Paggio (Page) and Ombra di (Ghost of…) Bussiride. His personalized and characterful counter-tenor had the zing of a sassy mezzo, and his high energy portrayal (in a shiny metallic gold and black striped fitted tunic-'n'-tights) stole many a scene. Topped off with anachronistic horn-rimmed glasses, the delectable Mr. Mead may have been slight of frame, but he dominated the stage whenever he appeared.
Anna Maria Panzarella made a fine impression as Deianira, aka Mrs. Hercules, sumptuously outfitted as she was in colorful period queenly attire. Ms. Panzarella gifted us with a richly detailed and sparkling vocal presence. Marlin Miller's Licco (Lichas) featured a well-focused tenor in an energetic traversal of a less than interesting role. Veronica Cangemi made a nice contribution as Iole, who also motivates the plot even if she lacks splashy writing, especially scoring with a limpidly voiced prolonged duet with Illo.
Umberto Chiummo (Nettuno), Jeremy Ovenden (Illo)
Umberto Chiummo gave pleasure plying his bass in service of three roles: Nettuno (Neptune), Tevere (The Tiber, as in River), and Ombra di (Ghost of) Eutiro (Iole's father).
While I have often enjoyed the lovely soprano Wilke te Brummelstroete, she was a bit off form on this date, her slightly diffuse tone (only) occasionally straying a bit from pitch in a dual assignment as La Bellezza (Beauty) and Venere (Venus). Johannette Zomer (Cynthia, Pasitea, Ghost of Queen Clerica) and Mark Tucker (Mercury, Ghost of King Laomedonte) made solid contributions in their small roles.
Musically, the redoubtable Ivor Bolton led another well-prepared, beautifully-paced, yet abundantly spontaneous reading, making the period band respond with well-judged results. I was struck by the variety of Cavalli's writing, and the remarkably fresh percussive effects. The score may have two or three finale ultimo's (ultimi?) too many, but this was for me a revelatory musical performance from first rate singers and the masterful Concerto Köln.
Johannette Zomer (Pasitea)
Director David Alden had enough clever ideas for four average productions, and his inspired lunacy (and sensitivity, too) found willing accomplices in scenic designer Paul Steinberg, lighting guru Adam Silverman, and costumer Constance Hoffman (her witty, whimsical, whacked out designs had to have been born in an Amsterdam "coffee" house!) This was a show where most every bit of wholesale "invention" landed.
The opening Chorus of Rivers was visually arresting, the large chorus (excellently schooled by Tim Brown and Martin Wright) in vibrant deep purple satin costumes, cavorting and "swimming" in the "sea" of shaken cloths, surrounding an "island" of a Cardinal (Tiber) in brilliant red.
The underworld scene at Eutiro's monument is here brilliantly imagined as a riff on the Thriller video with skewed caskets popping open and mummified dancers as graveyard revelers, confronted eventually by the cockeyed red steps of Hades rising from the depths. The earlier similar trap door appearance of Neptune surrounded by fanciful statues of romping silver sea horses was yet more visual eye candy.
The three graces appear revealed as singing heads who pop through advent calendar-like doors in a huge reproduction of …the three graces. The gloriously ethereal music in the "sleep" trio, was visually enhanced by a stage composition built around a snoozing codger in a Once Upon a Mattress style bed. There was even a nod to Flash Gordon, making an appearance as an ersatz Atlas struggling mightily to carry the weighty globe, of which Herc Hogan divests him, carrying it easily and cockily. I am not sure what the huge dancing Betsy-Wetsy baby doll was doing there in the mix but it sure was fun!
Worthy of very special note: Jonathon Lunn's Puckish choreographic style was sort of, well, Pina-Bausch-meets-Mark-Morris-as-imagined-by-Matthew-Bourne. Quirky, anachronistic and clever as hell. I loved every warped chassé and approximated be-bop hand jive twitch.
I know, gentle reader, that this sounds like it could easily be one of those let's-throw-a-bunch-of-stuff-together-and-to-hell-with-the piece sort of eclectic grab bag approach that often passes for opera "direction." It was often busy, yes, but the character relationships, the through-line of the plot, and the essence of the piece were extraordinarily clear.
Wilke te Brummelstroete (Venere), Luca Pisaroni (Ercole)
Still, there is a difference between inventive staging and over-staging and the opening of the second half, while entertaining, up-staged poor Illo pretty badly. I quite loved the jumbo tracked fish, swimming from one wing to the other; and the Page in a sailboat, like the Pussycat caught without the Owl, was a hoot as he was hilariously tossed about in a daffy storm effect.
But through all of this, poor Mr. Ovenden was perched upstage framed by a large hole (suggesting his looking into the lake), and well, although he was pouring his heart and soul into what seemed to be a difficult florid aria, he could have had a sparkler in his teeth and no one would have been paying any attention to him. Still, when he later "jumped" into the lake from on high, it was a wonderful effect to leave him hanging in the air by a wire, as if floating in the water's current.
That major quibble aside, by opera's end, when a dazzling electric neon yellow and blue backdrop displayed the rays of a sunburst; and the chorus promenaded in glowing golden yellow satin costumes; and the ebullient dance corps hurdled, bounced on, hopped over, and somersaulted into an over sized bed, I myself felt a celebratory cartwheel inside me just waiting to get out. (Only self-control and journalistic decorum held me in check in the lobby).
Once again, the adventurous Dutch National Opera and its artists made some bold and risky choices. With Ercole Armante, they paid off with dazzling results.
James Sohre
image=http://www.operatoday.com/ercoleamantegeneral0018.png image_description=
product=yes producttitle=Francesco Cavalli (1602 1676): Ercole amante productby=Ercole: Luca Pisaroni; Iole: Veronica Cangemi; Giunone: Anna Bonitatibus: Illo: Jeremy Ovenden: Deianira: Anna Maria Panzarella: Licco: Marlin Miller: Nettuno / Tevere / Ombra di Eutiro: Umberto Chiummo: La Bellezza / Venere: Wilke te Brummelstroete; Cinzia / Pasitea / Ombra di Clerica: Johannette Zomer; Mercurio / Ombra di Laomedonte: Mark Tucker; Paggio / Ombra di Bussiride: Tim Mead. Concerto Köln. Koor van De Nederlandse Opera. Ivor Bolton (cond.). David Alden (regie). product_id=Above: Luca Pisaroni as Ercole

All photos by Ruth Walz courtesy of De Nederlandse Opera
Posted by james_s at
9:01 AM
January 26, 2009
January 25, 2009
image=http://www.operatoday.com/callas_pirata.png image_description=Il Pirata di Vincenzo Bellini. Nella parte di Imogene. Teatro la Scala, Milano, 19 maggio 1958. Erio Piccagliani fotografo alla Scala di Milano. audio=yes first_audio_name=Vincenzo Bellini: Il Pirata first_audio_link=http://www.operatoday.com/Pirata1.m3u product=yes product_title=Vincenzo Bellini: Il Pirata product_by=Adele: Regina Sarfaty; Ernesto: Constantino Ego; Goffredo: Chester Watson; Gualtiero: Pier Miranda Ferraro; Imogene: Maria Callas; Itulbo: Glade Peterson. Orchestra and choir of the American Opera Society. Nicola Rescigno, conducting. Live performance, 27 January 1959, New York.
Posted by Gary at
12:30 PM
January 19, 2009
Barber's Antony and Cleopatra by NYCO
Is this a company for American singers or American composers? Or bel canto and Handel rarities? Or neglected twentieth century masterpieces? Or the urban extension of Glimmerglass? Or outrageous modern staging experiments?
If this was the end (and we all hope it's not), they went out with a major league bang: spectacular singing of an unfamiliar and worthy American work by an enormous cast, spectacular playing of an intricate and rewarding score, a joy in performing on all sides, and in hearing it on our part. This was grand opera excitement at a feverish pitch.
It was certainly an Antony to rank with any — not that there has been much in the way of competition. (I believe you can count the number of stagings the work has had on two hands.) Commissioned to open the new Met in 1966 in the full unflattering light of worldwide publicity, designed to display the acoustic and scenic glories of the new house, Antony fell victim to confusion and overweening ambition on nearly all sides. Zeffirelli's excessively grandiose production called for full operational capability of brand new machinery that, predictably, malfunctioned in every possible way. Rudolf Bing had resolved to present four new productions in that very first week. Barber's idiom was troubling to the conservative Met audience (which had heard Wozzeck and Peter Grimes and Jenufa, but had not yet taken them to its heart). The complex orchestration and the choral parts demanded more rehearsal time than they could possibly get in the confusion of that autumn. And Barber's setting of Zeffirelli's libretto, derived from one of Shakespeare's longest and most elaborate tragedies, was anything but taut. It was a world-famous fiasco, and nearly everyone blamed the least offending party: the opera itself.
But even shorn of an hour of music in the revision superintended by Barber himself with Giancarlo Menotti, Antony and Cleopatra is still very much what it was designed to be at its 1966 premiere: the grandest grand opera ever composed by an American. Good as it often is, remarkable as it always is, it cannot become a repertory item because it would fail to make its point at less than gala pitch. (It would be ideal for summer festival performance, such as are given by the opera companies of Seattle or San Francisco.) Lovable and memorable tunes might give us something to hang on to if the cast is less than top notch (as with, say, Verdi's Don Carlos), but this dramatic, declamatory score has few lovable tunes: even at its grandest, the opera demands concentration of us. Still, with familiarity, an audience cannot fail to grow for this work, and in fifty years or so (following the Don Carlos precedent), I foresee Antony will be so popular there will arise a demand for a return to the original full-length work. (I want to hear it now.)
Our concentration was amply rewarded at the NYCO/Carnegie Hall performances thrillingly led by NYCO's music director, George Manahan. Subtitles helped us when the chorus was obliged to sing "O Antony, leave thy lascivious wassails" — as they do, repeatedly, but solo lines were comprehensible by themselves. The orchestration, which might have been muddled in a pit, was crystalline and full of intriguing effects. There was first of all a distinction between scenes, primarily martial in character, set in Rome or in Roman camps: Trumpets and other brasses sounded a bit like a Hollywood toga epic. These were contrasted with wonderful sinuous figures and tinkling percussion for scenes of Egypt and Cleopatra's corrupt, intrigue-ridden court. Barber's Antony and Cleopatra incarnate these two male and female manners of orchestration and vocal melody, and their encounter leads inexorably to his destruction. (Caesar, in contrast, encounters Cleopatra but never ceases to "orate" with brass support: Love conquers almost all, but Rome conquers love.)
Especially imaginative was Antony's death scene, when, deceived by a false report of Cleopatra's suicide, he orders his valet to kill him, and the valet kills himself instead: Antony's fatal resolve emerges over a drum solo, then a keening melody for s solo flute enters for the interchange between Antony and the valet (brightly sung by Kevin Massey), and as the actual suicides approach, cellos and basses pluck the same rhythmic figure as the drum ... ominous and magical and somehow very Roman in the heroic, Plutarchian sense.
The enormous cast were strong to the last guardsman. Lauren Flanigan, a major singing actress who has sometimes had difficulties (as Verdi's Lady Macbeth, Strauss's Christine Storch, Thomson's Susan B. Anthony and Barber's Vanessa) penetrating a large orchestra in the unfriendly acoustic of the New York State Theater, had no trouble filling Carnegie Hall in this soaring, Strauss-like part, and seemed especially to enjoy her whimsical, flirtatious exchanges with Antony, with the messenger who announces Antony's marriage to Octavia, with her ladies in waiting. I could have used a more voluptuous, insinuating sound for her love music, such as the young Leontyne Price surely brought to it, but Flanigan was assured and effective. Her ladies were sung superbly by mezzos on the verge of major careers: Linda Vlasek Nolan, forthrightly dramatic, and Sandra Piques Eddy, luscious and dark-hued.
Teddy Tahu Rhodes, whose Met debut last winter as Ned Keene in Peter Grimes was striking even when surrounded by a huge, excellent cast, was just as impressive in this Shakespearean colossus of a leading role. If the City Opera still has its glorious production of Mefistofele, this is the man to renew it; if it hasn't, some company should present one. He has the presence and the range, the power and the legato for it. His Antony was both leader of men and pensive, even depressed, as he considered the ruin his passions have led him to in hollow, reflective phrases.
Simon O'Neill, another New Zealander, making his New York debut, tossed off Caesar's ungrateful lines as if they were vocalises. Caesar is a Strauss-tenor sort of role, impossibly high, yet O'Neill sang it with stylish ease. David Pittsinger, who has been doing accomplished work all over town for years, and who takes on the Ezio Pinza role in South Pacific this month, sang an admirable Enobarbus, Antony's guilt-ridden confidante. And so it went through role after role — surely many of these parts would be doubled in an actual repertory performance, but the company seemed eager to show us just how many terrific young singers they had. And this was the revised edition of the score, with six roles omitted!
These performances showed us a company in excellent potential health, and a score ripe for rediscovery, ready to take its rightful place in the American repertory.
John Yohalem
image=http://www.operatoday.com/A%26C013.png image_description=Lauren Flanigan (Cleopatra) [Photo by Carol Rosegg courtesy of New York City Opera] product=yes product_title=Samuel Barber: Antony and Cleopatra (Op. 40, revised version) product_by=Cleopatra: Lauren Flanigan; Iras: Laura Vlasak Nolen; Charmian: Sandra Piques Eddy; Antony: Teddy Tahu Rhodes; Octavius Caesar: Simon O'Neill; Enobarbus: David Pittsinger; Eros: Kevin Massey. New York City Opera orchestra and chorus conducted by George Manahan. Peformance of January 16. product_id=
Above: Lauren Flanigan (Cleopatra) [Photo by Carol Rosegg courtesy of New York City Opera]
Posted by Gary at
9:54 AM
January 18, 2009
Verdi Requiem: When in Rome . . .
Hugh Canning [Times Online, 18 January 2009]
The Royal Opera's music director, Antonio Pappano, holds the same post with Italy's leading symphonic band, the Orchestra dell' Accademia Nazionale di Santa Cecilia, in Rome.
Posted by Gary at
9:29 AM
Booming singer having a blast
By David Patrick Stearns [Philadelphia Inquirer, 18 January 2009]
The minute he starts discussing his success on the world's stages, Eric Owens can barely contain his laughter - the laughter of disbelief.
Posted by Gary at
9:20 AM
A Baroque Chameleon, Aria by Aria
By Allan Kozinn [NY Times, 17 January 2009]
The mezzo-soprano Vivica Genaux has a fondness for Baroque opera, and more important, a sense of the style and how it can be used. That isn't just a matter of technique. Knowing how and where to ornament and what kind of sound works best for a Baroque piece is important, but lots of singers are schooled in those things now. Ms. Genaux's strength is her combination of lively musicianship and the kind of personality that adapts easily and believably to the concerns of the character she is singing, even if she inhabits that character for the space of only a single aria.
Posted by Gary at
8:33 AM
Scottish Opera sell-out in St Petersburg hits the high notes
Helen Womack in Moscow, Charlene Sweeney [Times Online, 16 January 2009]
The performance was a sell-out, the applause was thunderous and the reviews are ecstatic. Scottish Opera's first production in Russia, with the soprano Anna Netrebko returning to the stage after maternity leave, has been hailed an outstanding success.
Posted by Gary at
7:37 AM
BELLINI: Norma — Roma 1955
Music composed by Vincenzo Bellini (1801–1835). Libretto by Felice Romani, from Norma ou L'infanticide (1831) by Alexandre Soumet.
First Performance: 26 December 1831, Teatro alla Scala, Milan.
Principal Characters:
| | |
| --- | --- |
| Pollione, Proconsole di Roma nelle Gallie | Tenor |
| Oroveso, capo dei Druidi | Bass |
| Norma, Druidessa, figlia di Oroveso | Soprano |
| Adalgisa, giovine ministra del tempio d'Irminsul | Soprano |
| Clotilde, confidente di Norma | Mezzo-Soprano |
| Flavio, amico di Pollione | Tenor |
| Due fanciulli, figli di Norma e di Pollione | Silent roles |
Time and Place: Ancient Gaul during the Roman conquest.
Synopsis:
Act I
In a forest in Gaul, at the time of the Roman conquest, the head of the Druids, Oroveso, announces to his people that the priestess Norma, his daughter, is about to reveal the will of the god Irminsul: all are hoping that the time has come to rebel against their oppressors. Meanwhile the Roman proconsul Pollione confides to his friend Flavio that he no longer loves Norma, in spite of the two children she has borne him and who live hidden in Norma's house, their existence a secret, but loves Adalgisa, a young priestess in the temple of Irminsul. Pollione fears Norma's anger, and recounts a dream in which she slaughters their children. Rut the sound of the sacred gong is heard announcing Norma's arrival, and the two Romans disappear into the forest. Now all the Druids are gathered, eager to be given the signal to revolt; but Norma reveals that the time for war has not yet come, and by the light of the moon she performs the sacred rite of cutting the mistletoe, invoking peace — a peace that is necessary for her to consolidate her secret liaison with Pollione. When Adalgisa is left alone she anguishes over her illicit love; Pollione arrives and eventually persuades her to follow him to Rome.
In her dwelling Norma looks anxiously at her children: she knows that Pollione must leave, but she has received no message from him, and is afraid that he no longer loves her as he once did. Adalgisa arrives, and cannot conceal that she has betrayed her vocation as a priestess and yielded to love. Norma understands her and reassures her, and releasing her from her vows she encourages her to follow the man she loves. But what is his name? Adalgisa indicates Pollione, who is approaching at that moment. At this tragic revelation Norma threatens revenge, and Pollione vainly tries to defend himself. Adalgisa, who knew nothing of Pollione's former love for Norma, is deeply distressed, and reassures Norma with generous words that she will break off all relations with the faithless Roman.
Act II
In her despair, Norma wishes she could kill her children: she is afraid, they will be turned into slaves in Rome, and also wishes to make Pollione suffer terribly. But she cannot bring herself to carry out the mad deed. She calls Adalgisa, and asks her to agree to marry Pollione and to keep the children with her; but Adalgisa no longer loves the Roman, and undertakes instead to rekindle his love for Norma. In the forest the warriors are ready to attack the Romans and kill the proconsul, but Oroveso has to stop them: Norma continues to remain silent about the decisions of Irminsul.
In the temple of Irminsul Norma learns from her friend Clotilde that Adalgisa's attempt has failed, and that Pollione is planning to abduct the girl. Norma has an overwhelming desire for revenge, and calls all her people together: it is the signal for war. Pollione is immediately taken prisoner, guilty of having broken into the cloister of young priestesses. It, is Norma who will have to sacrifice him, but first she must interrogate him and asks to be left alone with the guilty man. Norma promises to save Pollione's life if he will give up Adalgisa, but Pollione refuses and invites Norma to kill him, urging her to have, mercy on Adalgisa. Norma summons back her people and announces that there is another culprit, a priestess who has broken her vows: after a moment's hesitation she does not say Adalgisa's name, but her own. Only now does Pollione understand the nobility of the woman he has betrayed, and feels that he loves her again. Norma entrusts her children to her father Oroveso, who tearfully forgives her, and she serenely mounts the pyre with Pollione.
Click here for the complete libretto.
Click here for an English translation of the libretto.
Click here for the vocal score.
image=http://www.operatoday.com/NormaOlbinski.png imagedescription=Norma by Rafal Olbinski
audio=yes firstaudioname=Vincenzo Bellini: Norma firstaudiolink=http://www.operatoday.com/Norma2.m3u
product=yes producttitle=Vincenzo Bellini: Norma productby=Adalgisa: Ebe Stignani; Clotilde: Rina Cavallari; Flavio: Athos Cesarini; Norma: Maria Callas; Oroveso: Giuseppe Modesti; Pollione: Mario del Monaco. Orchestra e Coro di Roma della RAI. Tullio Serafin, conducting. Live performance, 29 June 1955, Rome.
Posted by Gary at
7:00 AM
"Pelléas und Mélisande": Woraus alles hervorgeht
Wilhelm Sinkovica [Die Presse, 14 January 2009]
Ich sage nichts"- das ist vielleicht der entscheidende Satz für das Verständnis dieses Stücks. Der greise König Arkel spricht ihn aus, ziemlich früh im Verlauf der undurchschaubaren Handlung. Er sagt dann zwar noch recht viel, woraus freilich, um Robert Musil zu paraphrasieren, "bemerkenswerterweise nichts hervorgeht". Was sich in den Seelen der Akteure des symbolistischen Dramas "Pelléas und Mélisande" ereignet, was die vielen Andeutungen und Verschweigungen bedeuten könnten, wir werden es nie erfahren. Und doch hat Maurice Maeterlinck das im Grunde ganz simple Eifersuchtsdrama um eine rätselhafte Frau, die zwischen zwei Halbbrüdern steht, in ein solch kunstvolles Geflecht von nur schemenhaft angedeuteten Beziehungen, Abhängigkeiten und Sehnsüchten eingesponnen, dass es die Zuschauer seit mehr als 100 Jahren auf unerklärliche Weise zu fesseln vermag.
Posted by Gary at
6:44 AM
January 14, 2009
New York City Opera Appoints George Steel As General Manager and Artistic Director
New York, NY, Jan. 14, 2009 - The Board of Directors of New York City Opera has announced the appointment of George Steel as the company's new General Manager and Artistic Director. Mr. Steel is expected to assume his responsibilities as of February 1, 2009.
Posted by Gary at
4:13 PM
MASCAGNI: Zanetto
Perhaps casting the singers poses problems, or the libretto is weak, or the whole style outdated. The oddity, however, pops up out of nowhere and the general response is, "Why?"
Pietro Mascagni's Zanetto falls somewhere in between. At only about 40 minutes, the neglect of this work is no mystery. Some of the music is quite attractive, but the story would need some filing in to be called a sketch.
In Florence Sylvia, a courtesan of some years, steps out onto her balcony to sing of her boredom with life and love. A young minstrel stops below and sings a paean to love. Intrigued and attracted, Sylvia descends to chat the youth up; he tells her that he has heard that the beautiful courtesan Sylvia lives nearby. She realizes she has one more chance at love, but the boy's idealized vision of herself prompts her to tell him to look elsewhere for his Sylvia, and as he wanders off, minstrelling away, she sheds a few tears of amorous regret.
Peter Tiboris, conducting the Bohuslav Martinú Philharmonic, selected a choral version of the prelude Mascagni composed for the opera. Three minutes of wordless beauty, this music promises more riches than the rest of the opera actually provides. The orchestral version of the prelude Mascagni later arranged comes after the opera on the disc. In between, Sylvia, a soprano, and Zanetto, a mezzo pants-role, basically exchange arias for 30 minutes. All of this music is pleasant without being especially memorable. If Zanetto's music comes off better, probably the credit goes to Jennifer Larmore's handsome tone and restrained characterization. Unfortunately, soprano Eilana Lappalainen has one of those large, acidic voices that can be entertaining live but that record very poorly indeed. Sylvia's music suffers as a result.
The disc reaches 50 minutes by including the luscious intermezzo from L'amico Fritz and the umpteenth run-through of that from Cavalleria rusticana.
Perhaps another recording with a more appealing soprano would push Zanetto firmly into the "rarity" column.
Chris Mullins
image=http://www.operatoday.com/Zanetto.png image_description=Pietro Mascagni: Zanetto
product=yes producttitle=Pietro Mascagni: Zanetto productby=Jennifer Larmore, mezzo; Eilana Lappalainen, soprano; Bohuslav Martinu Philharmonic. Peter Tiboris, conducting. productid=Elysium Records 727 [CD] price=$17.99 producturl=http://www.arkivmusic.com/classical/Drilldown?nameid1=7775&namerole1=1&compid=56681&bcorder=15&labelid=1437
Posted by chris_m at
3:35 PM
Who Was Mary Lewis?
I doubt it, nor should it. Oddly, Lewis's name and history have surfaced lately due it seems in some measure to the success of Renée Fleming in Thaïs at the Metropolitan Opera. Not that Ms. Lewis ever sang that virtuoso role, but in the 1920s she made recordings of a solo soprano version of the so-called Meditation from the Massenet opera that was so successful it was recorded twice by Lewis, 1923 and 1927, and people are still making reference to it.
This has come about because the wizardly restorer of old recordings, Ward Marston of Philadelphia, has gone to the trouble to revive and issue, quite successfully, all known Lewis recordings, both acoustic and electric, including two dozen songs transcribed in studios for radio broadcast — these from around 1937, more or less the last moment in Lewis's troubled career, yet a time when she was still touring in Europe, even singing song recitals at the Salle Gaveau in Paris.
Rose Publishing in Little Rock, Arkansas, the state of Lewis's birth in 1897, has issued Mary Lewis, the Golden Haired Beauty With the Golden Voice, by Alice Fitch Zeman, a so-so, home-town-girl biographical run-through. The author seemingly is not much conversant with the worlds of classical singing or opera, and her book seems written to a somewhat lower level of musical awareness than its subject might suggest. Zeman offers a cogent chronology of Lewis and her turbulent life and brief singing career, however, with fair documentation and notes. So, with a book, a record and chat on the web — what more is needed for a career to be revived? Perhaps an article in OperaToday?
Let's give it a try. Lewis's life is, sadly, that of a clichéd B-grade movie, and I don't mean that disrespectfully, for she made a game try and it clearly was no easy path. She was born in poverty in Arkansas, her parentage not clearly attested, and badly neglected as a child. Matters improved when a Christian minister's family took her in, and later when older relatives took an interest in her. Mary managed to get some high-school education, all that was expected for a girl of her station in those times, but her life was haphazard and she ran away with a theatrical troupe headed through Canada to California. By the early 1920s she was in New York City, receiving some musical training and found herself a star of the Ziegfeld Follies of 1921 and 1922. Lewis was unusually beautiful and charming, in spite of all. She is constantly referred to as "golden haired" in a time when that was a sure sign of favor, and the many photographs in Zeman's book often show her as a beauty. During two busy seasons with Ziegfeld, Lewis was well paid and decided to try out for grand opera, so undertook serious vocal training — with a modest measure of success. I suspect that training managed to define her issues, without really resolving them. Nevertheless, she auditioned forMet Opera director Giulio Gatti-Casazza in 1923, and he sent her off to Europe for study and experience, to pursue what she called "my operatic chimera." She auditioned at Paris and Vienna and soon was singing in those cities as well as Bratislava and London. In 1924 she took part in and recorded Hugh the Drover, in the premiere of Vaughan Williams' opera. On the continent she was singing big roles such as Gilda — in her mid-twenties, on precious little vocal training and technique.
Mary Lewis

The 1920s was the decade when Gatti-Casazza and the Met were making an effort to create American stars in the wake of the Great War and a short supply of saleable names for the operatic stage to replace retiring Europeans such as Caruso, Scotti and Destinn. At the same time, there was something of a push for nationalization of operatic repertory on American subjects (Merrymount of Deems Taylor is one of the more successful examples), which would become American casts. Unfortunately, an important lot of fine native vocalists, Nordica, Eames, Easton, Farrar, Mason and others had nearly all gone.
The pioneering glamour girl and diva, Geraldine Farrar a true national operatic, movie and concert superstar, by 1922 was hanging it up — so it was time for a new generation of Americans. New York-born Rosa Ponselle, far too young and under-seasoned for the big time, soon burst upon the Metropolitan with historic success and joined major established figures (Jeritza, Galli-Curci Gigli), and new Americans such as the young California baritone, Lawrence Tibbett, in dominating the Met stage. In the same period, in 1926, a young and unready soprano from Missouri, Marion Talley, zoomed into the galaxy of Met stars, as did Grace Moore of Tennessee in 1928 (who lasted longer as we shall see). Mary Lewis, the most beautiful and stage worthy of them all, most observers agreed, also debuted in 1926, after a whirlwind few years of training and singing in Europe, but was finished after 1930, leaving a record of only 25 performances, none distinguished. By 1929 Talley was gone, by 1933 Moore had left the Met to revisit show biz and Hollywood. By contrast, in 1931 Lily Pons, the chic French coloratura assumed stardom that lasted for three decades at the Met. What was going on here?
It was exactly what you expected: under-prepared young singers doing too much too soon, a thrice-familiar story unto this day. After a few seasons, Ponselle (who had by far the most beautiful and important voice of the lot), began to encounter vocal limitations and loss of confidence. In little more than a decade, she slowly cut back, her final Met appearances made in 1936. Moore returned to opera in the mid-1930s, for sporadic performances until 1946. But her vocal history was spotty. "When everything went right," as she said, she could turn in a reasonable Mimi or Louise — though her top voice was rarely in generous supply. Moore became a glamorous movie figure and international socialite, limiting her operatic performances to a few roles and only occasional concert appearances. She died in an air crash in 1947.
Marian Talley simply burned out from over-exposure and inadequate training, as did Lewis, who had to be taken off stage as Micaela in Carmen as she was too inebriated to continue. Seemingly alcoholism figured, off and on, in her troubled career. A couple of bad marriages did not help Lewis, but in 1931 she married a Standard Oil shipping magnate and ageing stage door johnny, Robert Hague, and took up posh living in the new Ritz Tower on Manhattan's East Side. Aside from some recital and concert tours, and extended visits to Europe where she was popular, Lewis's career devolved into that of a radio singer, including a successful nightclub appearance, while her status as a New York City society hostess blossomed in her role as the fashionable Mrs. Robert Hague.
In a bizarre turn of events, as the 1930s rolled by Lewis began to suffer increasing ill-health, never effectively diagnosed or treated. Later speculation focused on her appearance in 1922 in the Ziegfeld Follies in a radium decorated costume that literally glowed in the dark as theatre lights were dimmed. While this was a neat theatrical trick, it probably cost Lewis her life. Mary Lewis died of what is now seen as radiation sickness. She had not sung opera for ten years.
Ward Marston's two-CD set of Lewis's recordings probably does more than Zeman's book to tell the real Mary Lewis story. Listening to her sing operatic arias it is clear she was inadequate as both technician and musician for major classical singing. Her beautiful youth carried her for a time, but as the voice never caught hold and personal difficulties multiplied, her vocal career declined. While it was sad, her departure was not a great loss to the world of musical arts, as her records now show. At best, the Lewis voice was a mildly pleasant if thin lyric soprano, of adequate range, but not often well handled, and her lower register remarkably ill-developed. The famous, twice-recorded Thaïs selection we hear so much about is plain awful.
Lewis's French diction is wanting, musicality is minimal, tonal quality is inconsistent, there are mistakes in phrasing, errors in notes, and climactic tones are driven, suggesting that by age-30 when the electrical recording of the Thaïs finale was made, Lewis's voice was already troubled. A decade later, 1937, radio studio transcriptions of various American and European art songs show her more favorably and suggest the musical stage might have been her real home. But even that is in doubt. As in her childhood, maybe Mary Lewis did not really have a home. In Zeman's book, there are the usual scenes of triumphant returns to Arkansas, residencies in Europe singing in Paris and other capitals where her American beauty and glamour were appreciated, if not so much her artistry. But attempts at movie stardom failed. Marriage to the older Mr. Hague ended in separation in 1937; he died the next year. A few years later Lewis's illness carried her away, at a New York hospital, December 31, 1941. A Joan Crawford movie, anyone? Bless Mary's sad memory, at least she had some happy episodes — as many as her nature and times seemed to allow. Lewis was always star-crossed, and was representative of her generation of aspiring but flawed young American opera sopranos.
And so it went for the careers of these and other second generation American divas — second to the rigorously trained bel canto singers Eames, Nordica, Homer and such. By 1940 a new group of American opera singers with names like Swarthout, Traubel, Steber, Crooks, Peerce, Warren, Kirsten, J. C. Thomas, Kullmann and many more was taking hold, and they proved in every way better prepared to endure and grace their art. Like so much of the 1920s the illusion of success proved fast fleeting.
J. A. Van Sant © 2009
Editor's Note: The book and CDs are available as a set through Arkansas State University.
image=http://www.operatoday.com/Mary_Lewis_Marston.png image_description=Mary Lewis — The Golden Haired Soprano product=yes product_title=Mary Lewis — The Golden Haired Soprano product_by=Mary Lewis, soprano. product_id=Marston 52047 [2CDs] price=$33.98 product_url=http://www.arkivmusic.com/classical/Name/Mary-Lewis/Performer/85875-2
Posted by Gary at
1:32 PM
Walter Felsenstein Edition
His legacy includes opera films, which have just been restored and released as a set, which allows Felsenstein's work to be seen afresh. His personal touches, from broad concepts to subtle details, reveal a sensitivity to opera as an art form, as well as the nature of specific works.
Walter Felsenstein (1901-1975) was the founder and, for years, director or the Komische Oper Berlin, one of the premiere ensembles of the former East Berlin. In his long career he was responsible for almost 200 opera productions and also left a legacy of seven opera films, which are now available on DVD in a single set. From his first opera film, a feature release of Beethoven's Fidelio from 1956 to his last effort in this genre, a film of a staged version of Mozart's Die Hochzeit des Figaro, the seven works serve as testimony of Felsenstein's craft and set him alongside such outstanding directors of opera on film as Rolf Liebermann. (Liebermann's tenure with the Hamburg Opera, from 1959 to 1973, seem to parallel Felsenstein's years with the Komische Oper in Berlin.) With the release of this set of all the operas, including other documentary footage, the Estate of Walter Felsenstein makes the director's efforts available to a wide audience.
Felsenstein did not treat each opera the same way, but approached each one individually. He used, for example, the medium of the feature film for Fidelio and arrived at a visual and dramatic interpretation of the work that differs from some of the recent DVDs of stage productions of the opera. Using techniques reminiscent of Sergei Eisenstein in Alexander Nevsky and, to a degree, that of his contemporary Vera Stroyeva whose film of Boris Godunov was released around the same time, Felsenstein freely used visual images and music to convey the sense of the text, as occurs in Marzellina's first-act aria. Such imagery is important to connoting mood at the climax of the opera, where the forces of nature play a role in Felsenstein's conception of the work, with storm and sunshine provide one level of interpretation. Moving away from the opposition of darkness and light, Felsenstein used of nighttime scenery for the celebration of Leonore's reunion with Florestan, with candle-lit crowd scenes and a bonfire going a bit beyond the sometimes simpler depictions of the festivities that occur when the opera is presented on stage. The medium of film also allowed Felsenstein to make the first-act march of the prisoners into light a more important moment in the work, as he almost loses the previously confined men the garden near the citadel to reflect their longing for the light of day and the need to be in free air. This staging makes Pizarro's concern for reining in the prisoners more understandable then when this scene receives a more prosaic treatment in the foursquare space of a conventional opera stage.
Other touches are worth seeing, such as the moment Leonore (as Fidelio) looks into a mirror and sees beyond her disguise to reveal her feminine image, an element which is inferred in the text, but never reveal to theater audiences until climactic scene in Florestan's cell. This cinematic trick is tantamount to a musical quotation, which can carry a great deal of meaning within a relatively short time. These and other aspects of the production demonstrate Felsenstein's deep knowledge of opera, which was part of his professional life since the 1930s. After all, Felsenstein had been involved with productions at the Salzburg Festival and elsewhere in Europe, which gave him the background to support his novel effort at making a film of the opera Fidelio.
As to the musical content of the film, the nature of the singers involved bears attention. The roles of Marzellina and Fidelio in this production involve women with similar voice types, and this differs from the modern preference for more distinctive voice types. The full-voiced Florestan of Richard Holm is a welcome sound, which works well in conveying the musical line. With Pizzaro, the bass-baritone timbre of Heinz Rehfuß [acted by Hannes Schiel] brings a sinister note to the role, which is underscored by his physical presence - while menacing, it is by no means a caricature of the stage villain. His voice is similar to that of Rocco, rather than the sometimes darker voice type that has since come to be part of modern productions.
Some similar comparisons may be made with Felsenstein's film of Don Giovanni, which dates from 1966, a decade after Fidelio. This is a filmed opera, rather than a feature film based on the opera, and reflects a particular staging of Mozart's opera. Despite the colorful locations that are found in the libretto of this opera, Felsenstein chose to use a more conventional stage production of Don Giovanni for this film. Even within such an artistic self-restriction, Felsenstein brought his own genius to the result in a film that is as strong dramatically as it is musically. The acting itself stands apart from various other stagings of the opera because of the director's emphasis on the interactions between characters that often suggest the intimacy of a drama. Through his efforts in filming this opera, Felsenstein does not minimize music in this film but rather intensifies it. The opening scene is quite intense because it is suggests that work is opening in the middle of action already set in motion, and as such the audience must determine what has happened in order to understanding what is occurring on stage. With the interaction between Don Giovanni and the Commendatore, the fight starts as something in which the Don has engaged before, and he is noticeably surprised when his parry wounds the older man fatally. The shots of Don Giovanni's facial expression are particularly effective and, at a time when opera on film most often trained cameras toward a stage, reveal the multiple cameras Felsenstein used to create his finely honed result.
Even though it involved the traditional stage, Felsenstein used the camera to take the audience beyond the footlights through the angles and viewpoints that move inside the work. In the mid- 1960s, when Felsenstein made this film, televised opera usually involved long shots of the stage, and if the close-ups occurred, they sometimes shows imperfections in the faces of the singer. This is not the case in this effort, which resembles more a feature film. In the title role, György Melis offers a convincing characterization through his singing and acting, which has a parallel in the casting of Anny Schlemm in the role of Donna Elvira. As with other successful productions of this opera, those two principals work well together, but they are not alone, as the ensembles help to shape Felsenstein's conception of Don Giovanni Through the lens, he made this work come alive to reveal the various personal relationships at the core of the quintessential tragicomedy by Mozart.
While these two films, among several others, are in black and white, Felsenstein also used color for several operas. Verdi's Othello, which he released in 1969, just a few years after Don Giovanni, is characterized by the bold colors that help to define the work. Filmed on a studio stage, like Don Giovanni, Othello benefits from multiple camera that allow for a variety of camera angles. Felsenstein created a powerful effect in the opening scene of Othello, which include some well-placed close-ups that bring out the tension in the scene not only through their facial expressions, but because they delay the entrance of the title character. In Felsenstein's hand, the interplay between Iago and Rodrigo is also more intense because the audience is not viewing their exchange a distance from the stage. Rather, the visual proximity underscores the drama and, as a result, intensifies the music. This production is reminiscent of a quite intense presentation of Verdi's Macbeth a decade later at the Deutsche Oper Berlin, which brought out the interplay between the principals in a similar way. Yet Felsenstein's film of Othello benefits from the perspective of the camera that guides the viewer into the director's vision of the work.
In a similar way the latest opera in the set, the one of Mozart's Hochzeit des Figaro, shows Felsenstein making the most of the stage in a production which benefits from a sensitive combination of traditional and post-modern elements. As with other operas, like Don Giovanni, Felsenstein shows the conductor and the orchestra in the pit for Die Hochzeit des Figaro, and this reminds the viewer of the live quality of the film. This lens takes the viewer closer into a nicely detailed production that could not be appreciated as well from the distance of a seat in the audience. Yet as the production moves along, the somewhat elaborate sets open up to a more representational set. Where Susanna and Figaro's opening scene was set in an appointed room, the walls open us in later scenes, to allow the actors to move more freely on the stage, as occurs in the same act, when Cherubino hides in Susanna's room. Yet in the second act, Felsenstein used a single wall to suggest the larger structure in which the performers interact, and this effect, while subtle, also allows the score to emerge clearly and serve to propel the drama.
Such an effect is wholly in Felsenstein's aesthetic. The comments of Jens Neubert, quoted in the booklet that accompanies the DVD set, are particularly apt: "In his opera films Walter Felsenstein aimed to establish singing and the singing performer as a natural phenomenon who should never appear strange in the eyes of the audience. . . . With his opera films he intended to create a new popular genre by suing the experimental tools of his time in his theatrical-interpretation." In many ways Felsenstein succeeded in ways that are still finding their way into modern broadcasts of opera. The use of the camera on stage is an element that Felsenstein used to bring the audience into the drama, and it introduces a sense of intimacy that is not always possible on stage, even though it is implicit in the score. The camera angles that Felsenstein used made the exchanges between the characters realistic without introducing details not in the score, which occur in some of the re-thought conceptions of opera that have been produced in recent decades. In this sense Felsenstein deserves attention for the way he enlivened as familiar a work as Don Giovanni without resorting to artifice, and those unfamiliar with his work might want to start with this opera.
One of the surprising films in this set is Felsenstein's film of Janácek's Cunning Little Vixen, which dates from 1965. Through his use of oversized sets, including some impressively enormous plants, he created images that fit the work aptly. More than that, the acting conveys the animal world well, with the title character embodying the characteristics of the fox, yet sometimes moving into the human world, as found in the close-ups of her face and eyes. Possible only in film, the images sometimes blur from the costumed animal characters to human ones, with smooth visual transformations fitting the transitions in the score. A difficult opera to find on DVD, this black-and-white production from the mid-1960s is engaging and shows Felsenstein at one of his most imagination moments.
In a similar way, the charming production of Offenbach's Contes d'Hoffmann in German as Die Erzählungen von Hoffmann, which was released in 1970 is an inspired conception of the opera. Within the framework that Felsenstein conceived for this production, the work holds together well, not only through his characterization of Niklaus, but through the vivid images that are part of each scene. The meticulously decorated sets used in this opera well in this film, which is restored well and reflects the details quite clearly. The tenor Hanns Nocker who plays Hoffmann stands out for the ease with which he has projected his character and the corresponding musical line.
Part of Felsenstein's success also resides in his use of the vernacular, with German as the language of each of the films. Those familiar with Italian for Mozart's Da-Ponte operas and Verdi's Othello and French for Offenbach, especially the well-known Contes d'Hoffmann, may find this initially jarring, but each cast delivers the text facilely. In some ways the sung translation of The Cunning Little Vixen makes the work more accessible for those who may be more familiar with German than Czech. Nevertheless, the DVDs include subtitles for each work in English, French, Spanish, and, of course, German.
In presenting these seven films in this convenient set, the Felsenstein Archive also makes available background material and some historic footage. The second disc of Othello includes a presentation of Felsenstein's working notes, as well as an interview with the director. With Ritter Blaubart, the materials move logically from text to graphics and, eventually, to footages of a rehearsal of the staged version of that work. Materials like these are found throughout the set, and also include some historic films from Pariser-Leben (1945); Die Fledermaus (1947); Die Kluge (1948); Orpheus in der Unterwelt (1948); and Carmen (1949). Such materials augment the solid information found in the detailed booklets that are included with each film.
This set not only preserves the groundbreaking work of Walter Felsenstein in filming opera, but also makes it available dynamically through the medium of DVD. The restoration involved with the creation of this set, an element documented in the accompanying materials, contributes to the overall effect. With the availability of this set, those interested in opera film have a resource that is essential to understand the technical and artistic accomplishments of one of its more creative artists. Arthaus has done a fine service to opera by making these films available a such of such fine quality and thoughtful presentation.
James L. Zychowicz
image=http://www.operatoday.com/Felsenstein_Edition.png image_description=Walter Felsenstein Edition (Komische Oper, 1956-76) product=yes product_title=Walter Felsenstein Edition (Komische Oper, 1956-76)
Beethoven: Fidelio (1956)
Janáček: The Cunning Little Vixen (1965)
Mozart: Don Giovanni (1966)
Verdi: Otello (1969)
Offenbach: Les contes d'Hoffmann (The Tales of Hoffmann) (1970)
Offenbach: Barbe-bleu (Bluebeard) (1973)
Mozart: Le Nozze di Figaro (The Marriage of Figaro) (1975-76) product_by=Performers: Magda László, Kurt Equiluz, Richard Holm, Heinz Rehfuß, Sonja Schöner, Georg Wieter, Ruth Schob-Lipka, Irmgard Arnold, Christel Oelhmann, Werner Enders, Rudolf Asmus, Herbert Rossler, Anny Schlemm, Eva Maria Baum, Klara Barlow, Fritz Hübner, György Melis, Hanna Schmoock, Peter Seufert, Hans-Otto Rogge, Hans Günther Nöcker, Vladimir Bauer, Erich Blasberg, Uwe Kreyssig, Alfred Wroblewski, Melitta Muszely, Sylvia Kuziemski, Horst-Dieter Kaschel, Heinz Kogel, Ingrid Czerny, Helmut Polze, Ute Trekel-Burckhardt, Barbara Sternberger, József Dene, Helmut Volker, Magdalena Falewicz, Ursula Reinhardt-Kiss.
Conductors: Fritz Lehmann, Václav Neumann, Zdeněk Košler, Kurt Masur, Karl-Fritz Voigtmann, and Géza Oberfrank.
Orchestras: Vienna Symphony Orchestra, Berlin Comic Opera Orchestra. product_id=Arthaus Musik 101305 [12 DVDs] price=$134.99 product_url=http://astore.amazon.com/operatoday-20/detail/B001HBX8O6
Posted by jim_z at
8:21 AM
DVORÁK: Lieder
Bernarda Fink, known for fine work in recordings of Händel's operas conducted by René Jacobs, has also recorded some of Schubert's Lieder with Gerold Huber, piano. Yet Fink's recording of Lieder by Dvorák addresses a longstanding need in the Romantic repertoire in literature that seems suited well to her voice.
This recording spans Lieder from the entirety of Dvorák's career, including the Pisně, Op. 2, Pisně z rukopisu Královédvorského, Op. 7, Cigánské melodie, Op. 55, V národnim tónu, Op. 73, Pisně, Op. 82, Pisně Milostné, Op. 83, and Pisně na slova Elišky Krásnohorské (without Opus number). This selection makes available approximately a third of the 93 Lieder that Dvorák composed, Of these works, the mature set of love songs, Pisně Milostné, Op. 83, offer a fine introduction to Dvorák's Lieder. The third song, "Kol domu se ted' potácim" ("I wander past the nearby house") captures some of the lyricism associated with the composer and, at the same time, has an accompaniment that reflects the motion found in Dvorák's popular Slavonic Dances and other popular works, and Fink delivers the vocal line sensitively, and Vignoles provides a solid accompaniment. Almost familiar sounding, this song is typical of Dvorák's style and brings to mind the echoes of folksong that are part of some of Brahms's contributions to the genre.
Such resemblances occur throughout Dvorák's songs, which also reflect the modal inflections characteristic of his style. While not overtly imitating folksong, as occurs more often with Mahler, Dvorák makes use of such a stylistic element to underscore his text, which is presented here in Czech, with translations in German, French, and English in parallel columns in the neat booklet bound with the recording. In those works designated as related to folk music, such as V národnim tónu, Op. 73, Dvorák evokes the idiom subtly with conventional gestures like the triadic vocal line of the second song in the set "Žalo dievča" or the third with its inventive accompaniment. In his hands, though, such elements are not mere artifice, but woven into the structure of the music and not merely treated as an additive. Fink's performance brings out the integrity implicit in this and other songs by Dvorák.
Such elements are more pronounced in his Cigánské melodie, Op. 55, which nominally evoke the Gypsy style. The first of the latter set ("Má piseň zas mi láskou zni," a hymn of love, has all the intensity of an aria from one of Dvorák's operas and demonstrate's his fine sense of reinforcing the mood with the accompaniment. This set also includes familiar music by Dvorák, with the fourth piece being the well-known "Songs my mother taught me" ("Když mne stará marka zpivat učívala"), which Fink delivers earnestly. The other songs exhibit the exoticism of the Gypsy style through the rhythmically inventive accompaniments that suggest a dance-like response to the sung text.
In this recording Bernarda Fink makes an audible case for these excellent Lieder through her sensitive interpretation of them. The pieces she selected fit her voice well, and her sometimes understated performances allow Fink to turn phrases neatly. At the same time, her enunciation of Czech is clear and idiomatic, with accents fitting nicely into the music and phrases aptly stated. Beyond her technical finesse in these pieces, Fink's intensity contributes to the overall quality of the recording, which deserves attention by anyone interested in Dvorák's music.
Roger Vignoles brings to the recording his mastery of the accompaniments to create with Fink a seamless ensemble. Prominent when he needs to be and reticent where appropriate, Vignoles brings a consistent support to the musical content of the songs that transcends the technical divisions between voice and piano. Together, Fink and Vignoles achieve a balance to which some aspire and few achieve so well.
James L. Zychowicz
image=http://www.operatoday.com/Dvoraklieder.png imagedescription=Antonin Dvorák: Lieder
product=yes producttitle=Antonín Dvorák: Lieder productby= Bernarda Fink (mezzo-soprano), Roger Vignoles (piano). productid=HMC901824 [CD] price=$19.99 producturl=http://www.arkivmusic.com/classical/album.jsp?album_id=87919
Posted by jim_z at
12:27 AM
January 11, 2009
The Works of Giacomo Puccini
Il Trittico:
image=http://www.operatoday.com/puccini175.png image_description=Giacomo Puccini product=yes product_title=The Works of Giacomo Puccini
Posted by Gary at
2:25 PM
DONIZETTI: Lucia di Lammermoor — Roma 1957
Music composed by Gaetano Donizetti. Libretto by Salvadore Cammarano after Walter Scott's novel The Bride of Lammermoor (1819).
First Performance: 26 September 1835, Teatro di San Carlo, Naples.
| | |
| --- | --- |
| Principal Roles: | |
| | |
| Lucia | Soprano |
| Enrico Ashton, Laird of Lammermoor, Lucia's brother | Baritone |
| Edgardo, Laird of Ravenswood | Tenor |
| Lord Arturo Bucklaw, Lucia's bridegroom | Tenor |
| Raimondo Bidebent, a Calvinist chaplain | Bass |
| Alisa, Lucia's companion | Mezzo-Soprano |
| Normanno, huntsman, a retainer of Enrico | Tenor |
Setting: Ravenswood Castle, Scotland, during the reign of Queen Anne (1702-1714).
Synopsis:
Act I
Scene 1. The entrance hall of Ravenswood Castle
Normanno urges the servants to scour the grounds for an intruder. Enrico is worried because his sister Lucia refuses to marry Arturo, an alliance which would save Enrico from the consequences of having been on the losing side in a recent uprising.
Raimondo reminds him that Lucia has not recovered from the grief of her mother's death and is not yet ready for love, but Normanno claims that Lucia is in love - with a man who had saved her from a wild bull, none other than Enrico's mortal enemy, Edgardo. Enrico's rage is exacerbated by the failure of the retainers to capture the intruder, Edgardo.
Scene 2. The castle grounds
As Lucia and Alisa wait for Edgardo by a ruined fountain, Lucia says that she has seen the ghost of the fountain, a lady killed by her jealous lover, an earlier Ravenswood.
Edgardo announces that he is leaving at once for France on State business. Lucia refuses his request to tell Enrico of their love, rightly fearing his bitter hatred of Edgardo; and Edgardo reminds her that although he has neglected for her sake his oath to avenge his father's death on her brother, the oath still stands. She calms him and they swear eternal fidelity and exchange rings.
Act II
Scene 1. A room in the castle
Normanno tells Enrico of the success of his scheme to intercept all letters between Lucia and Edgardo, now some months absent in France. Even though the wedding guests are already assembling, Enrico has yet to obtain Lucia's consent to the marriage, but he has a forged letter which he hopes will convince her that Edgardo plans to marry another. When she tells him that her faith is pledged to Edgardo, he overwhelms her with the letter and reminds her that only Arturo can save him from ruin. Raimondo, who has sent letters to Edgardo on Lucia's behalf, tells her that there has been no answer and advises her to sacrifice herself for her brother.
Scene 2. The great hall of the castle
The wedding is about to be solemnised. Enrico explains Lucia's pallor and listlessness to Arturo as symptoms of her mourning for her mother. No sooner has Lucia signed the contract than Edgardo bursts in. He claims Lucia, but Raimondo shows him the contract. He throws the ring she has given him at her and demands his in return and leaves, cursing her faithlessness.
Act III
Scene 1. The tower of Wolf's Crag
In a raging storm Enrico comes to Edgardo's home to challenge him to a duel, taunting him with the reminder that Lucia now belongs to another. They agree to fight at dawn near the tombs of the Ravenswoods.
Scene 2. The great hall of Ravenswood Castle
The rejoicing of the wedding guests is interrupted by Raimondo, bearing the news that Lucia has gone mad and killed Arturo. Covered in blood, she enters, imagining that she is about to be married to Edgardo. Enrico's reproaches turn to remorse when he realises her state. Her wandering mind becomes more disturbed as she remembers Edgardo's anger, and she collapses.
Scene 3. By the tombs of the Ravenswoods
Waiting for dawn by the tombs of his ancestors, Edgardo thinks bitterly of Lucia's apparent faithlessness. Tidings of her imminent death are followed by the death knell. He realises that he has misjudged her and stabs himself, hoping to join her in death.
[Synopsis Source: Opera~Opera]
Click here for the complete libretto.
image=http://www.operatoday.com/lucia_di_lammermoor%28Olbinsk.png image_description=Lucia di Lammermoor by Rafal Olbinski audio=yes first_audio_name=Gaetano Donizetti: Lucia di Lammermoor first_audio_link=http://www.operatoday.com/Lucia1.m3u product=yes product_title=Gaetano Donizetti: Lucia di Lammermoor product_by=Alisa: Elvira Galassi; Arturo Buklaw: Dino Formichini; Edgardo: Eugenio Fernandi; Enrico Ashton: Rolando Panerai; Lucia: Maria Callas; Normanno: Valiano Natali; Raimondo Bidebent: Giuseppe Modesti. Orchestra e Coro di Roma della RAI. Tullio Serafin, conducting. Live performance, 26 June 1957, Rome.
Posted by Gary at
9:46 AM
January 7, 2009
Mark Padmore, Julius Drake and friends, Wigmore Hall, London
By Andrew Clark [Financial Times, 7 January 2009]
The Handel, Haydn and Mendelssohn anniversaries are upon us, but the echo of the Vaughan Williams year - 2008 marked the 50th anniversary of his death - continues to reverberate. Tuesday's recital demonstrated what rich seams lie beneath the popular surface of Vaughan Williams's art: this is what musical anniversaries should be about. It was the latest in a series devised by the pianist Julius Drake, whose programme-making skills and wide-ranging friendships have made him a pivotal figure in London's busy recital scene.
Posted by Gary at
5:31 PM
Blythe Sings Gluck's Orfeo ed Euridice 'Orfeo' at MET
[Broadway World.com, 7 January 2009]
Director-choreographer Mark Morris's much-lauded 2007 production of Gluck's Orfeo ed Euridice returns to the repertoire, with Stephanie Blythe taking on one of the pinnacles of the mezzo-soprano repertory, the role of Orfeo, for the first time in her career. Soprano Danielle De Niese, an acclaimed singer of eighteenth-century music and a graduate of the Met's Lindemann Young Artist Development Program, sings Euridice for the first time at the Met. Heidi Grant Murphy returns as Amor, which she performed at the production's premiere in 2007.
Posted by Gary at
5:29 PM
Plumbing the Exquisite Psychic Depths of Robert Ashley
By Ross Simonini [Village Voice, 7 January 2009]
In the mid-'70s, Michigan-born composer Robert Ashley discovered a rare commodity in the art world: a niche. Lamenting that his homeland lacked the rich operatic tradition of Europe, he sought to invent a distinctly American art form, mixing dense sound environments and amorphous narration to create something he called "opera-for-television" (with the "television" part mostly referring to the works' division into 30-minute "episodes"). He clearly wasn't courting a mass-media audience, though: In early efforts like Music With Roots in the Aether and Perfect Lives, the black humor of the avant-garde is on full display, with chants about "geriatric love" and recipes for Pear Jello Salad flashing across the screen.
Posted by Gary at
5:25 PM
Songs in English were Voigt's biggest treat
By LARRY FUCHSBERG [Star Tribune, 7 January 2009]
Soprano Deborah Voigt's Tuesday-evening Schubert Club recital, a master class on communicating with an audience, explored several seldom-visited pockets of the art-song repertory. There were songs in Italian by Giuseppe Verdi (which, alas, lent credence to the view that great opera composers are never great song composers) and by Ottorino Respighi (who, too long represented by his noisy orchestral music, is ripe for rediscovery).
Posted by Gary at
5:23 PM
German conductor Debus named music director of Canadian Opera Company
[The Canadian Press, 7 January 2009]
TORONTO — Coming to Toronto for the first time this past fall, Germany's Johannes Debus found himself conducting "War and Peace" for the Canadian Opera Company - a piece he had never done in a language he didn't speak.
Posted by Gary at
5:20 PM
Mozart: Le Nozze di Figaro
His CD sets of the Mozart/Da Ponte operas earned widespread admiration on their release, and the fresh, energetic approach on those recordings can be heard here as well. Furthermore, his booklet essay is a model combination of fascinating detail about his conducting choices and stylish writing.
In the end, however, a DVD has to be judged in its entirety, and when the dull set (there's only one, really) and mostly routine singing are taken into account, only the most devoted fans of conductor Jacobs would find this particular Nozze of much appeal.
Stage director Jean-Louis Martinoty claims to be working (according to an occasionally incomprehensible booklet note translated by John Tittensor) "in an «artificially» realistic world." Working with the sets of Hans Schavernoch and costumes of Sylvie De Segonzac, Martinoty presents a Nozze in familiar dress and typical stage movement, staged before a bewildering series of art reproductions, framed and tilted this way and that. The result has neither the familiar tug of realism nor the insightful edge of artifice. Instead, it simply seems as if funds for a real set could not be found.
Jacobs' cast has one familiar assumption, that of Angelika Kirchschlager's Cherubino. Your reviewer dislikes to be ungentlemanly, but Ms. Kirchschlager no longer has the advantage of youth in adopting an adolescent male persona. Thankfully, her voice retains its appeal. Pietro Spagnoli's Count remains a cold, arrogant lout even in his plea for forgiveness, making one wonder why Annete Dasch's Countess fights so hard to win back his love. Spagnoli's voice at least has an appropriately self-satisfied fullness. Dasch's intonation slackens a bit too often to make her Countess a success. She and Rosemary Joshua's Susanna offer a muted letter duet, but maybe Jacob's relatively swift tempo also takes some of the beauty from the music. Luca Pisaroni's Figaro comes off best; a big, handsome voice and an easy-going natural manner make him an attractive stage figure. The minor characters are adequately performed in this full version of the opera (which makes for a very long act four). If only director Martinoty hadn't asked Don Curzio (Serge Goubiboud) to affect an exaggerated stutter, to little comic effect.
To hear Jacobs' take on Mozart's great score, the CD, better sung, earns a stronger recommendation than this visually and vocally bland DVD.
Chris Mullins
image=http://www.operatoday.com/Nozze_BelAir.png image_description=W. A. Mozart: Le Nozze di Figaro product=yes product_title=W. A. Mozart: Le Nozze di Figaro product_by=Pietro Spagnoli (Count), Annette Dash (Countess), Rosemary Joshua (Susanna), Luca Pisaroni (Figaro), Angelika Kirchschlager (Cherubino), Sophie Pondjiclis (Marcellina), Alessandro Svab (Antonio), Antonio Abete (Bartolo), Enrico Facini (Don Basilio), Paulette Courtin (Barbarina) & Serge Goubioud (Don Curzio). Concerto Köln & Choeur du Théâtre des Champs Elysées, René Jacobs (cond.) product_id=Bel Air Classiques BAC017 [2DVDs] price=$48.99 product_url=http://www.arkivmusic.com/classical/Drilldown?name_id1=8429&name_role1=1&comp_id=2079&genre=33&bcorder=195&label_id=5884
Posted by chris_m at
4:07 PM
La Rondine at the MET
Someone spent money on this thing, which originated at Covent Garden. Gustav Klimt at his grandest has evidently muraled Magda's intimate salon (probably while seducing Magda and her maid, if I know Gustav), the casual student café of Act II is suitable to some grand hotel on the Place Vendôme, and the Riviera inn where Ruggero and Magda hole up in Act III has become an art nouveau orangerie of stained glass grape arbor three stories high. Overproduction adds undeniable pleasure to the Met experience, however it may undercut the small-scale work at hand by raising expectations that will not be fulfilled.
La Rondine is often called Puccini's Viennese operetta. The inspiration was, indeed, a Viennese libretto, set in sophisticated France, dealing with sophisticated emotions — none of its lovers would think of picking up a dagger or making a public scene; they're not into "drama" — which is pretty funny for characters in a Puccini opera. A rich man's elegant mistress feels restless, takes up with a young lover, realizes settling down with him to a bourgeois life is not her style, and returns — like the swallow of the title — to her nest. True love won't keep you in Klimts or emeralds, honey. Regrets. The road not taken. No call for the undertaker or the priest.
The scale is intimate, the emotions internal, and the musical setting is intimate too, lilting and sensuous and utterly beguiling. (This is opera in the twentieth century?) It works sublimely on the small screen — my first experience of La Rondine was a television movie starring Teresa Stratas. Angela Gheorghiu compares well to Stratas as a beauty and as an actress (high compliments, these). I suspect her intimate looks and sighs will play even better in HDTV, and that her detailed acting was designed for Covent Garden, which is half the size of the Met. She had not warmed up properly to possess "Che il bel sogno di Doretta," the opera's one big aria, but that's Puccini's fault for putting it two minutes after curtain rise so he can go on recollecting it all evening. For the quartet in Act II and the love duet in Act III, Gheorghiu was more than prepared. It is not a voice of Tebaldi or Price size, but she has her own polished way with a Puccini phrase, and his bloom suits hers much better than, say, Donizetti, where (with fewer instruments to conceal her?) she can sound arch and stretched.
Angela Gheorghiu as Magda and Roberto Alagna as Ruggero

Her partner is Roberto Alagna, of course, and they certainly play and sing lovers convincingly together. But Ruggero offers the tenor so little that you wonder why Gigli bothered with it — the standout tenor part is the secondo uomo, the poet Prunier, and here Marius Brenciu, in his first Met appearances, was light and suave with a very pleasing run up to head voice when called for. His amie of the night was Lisette Oropesa, a Met Young Artist alumna, who played Magda's chirpy maid, having an affair with the poet, going for a big break in cabaret and, failing, returning to her old nest — no Adele audition for this gal. Oropesa has personality but her voice, on this brief exposure, did not. The quartet for the paired and (as we do not yet know) ill-fated lovers was delicious, and their story has that fragrant pessimism that afflicts late Lehar (whose librettists drafted this story too). Love excuses everything in Act I, but let's be real — it always dissipates before the final curtain.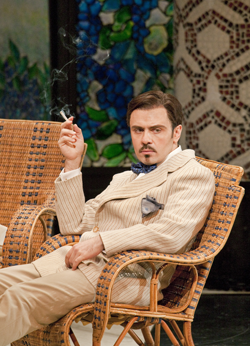 Marius Brenciu as Prunier

What the world wants now is a new Puccini opera. La Rondine is not new, of course, but the brand is right, and it's never been popular, so it's ripe for discovery. Singers of Magda and Ruggero need fear no comparison with the interpretations of Callas and Pavarotti, because they never sang it, and hardly anyone alive remembers Bori or Gigli. The opera contains little familiar music — though, in a sense, all of it is familiar — aside from "Il sogno di Doretta," which no lyric soprano worth her salt can resist. (When Gheorghiu sings it, it is difficult not to sigh for Leontyne Price, but she had time to warm up, as she never sang the entire opera.)
No one living is going to write two hours of new Puccini (though heaven knows Andrew Lloyd-Webber and several movie composers would if they could), and that is really what the new audience discovering opera (and eagerly courted by Peter Gelb) wants: a Puccini opera to discover for themselves. There have even been productions of Edgar, which hasn't even got a great showpiece tune to commend itself. My advice to opera companies courting this crowd is the great number of neglected but lovely works by Puccini's contemporaries and rivals, just waiting for the right singers and a production like this one. Okay, there are howlers like Francesca da Rimini or Sly or Cyrano, which even a Scotto or a Domingo couldn't save, but there are also fascinating scores like Cristoforo Colombo (Franchetti), Cassandra (Gnecchi), La Fiamma (Respighi), L'Oracolo (Leoni), Il Piccolo Marat (Mascagni), L'Amore dei Tre Re (Montemezzi). Take a chance. (It would help if there were a proper verismo soprano around to sing them, I grant you — no, I can't think of one either.)
Lisette Oropesa as Lisette (foreground) in a scene from Act I
But I never leave La Rondine, even a performance as glamorous and charming as this one, without feeling unsatisfied, shortchanged — as if there has not been enough feeling, enough melodious anguish, as if the company should complete the evening somehow, with Il Tabarro, say, or scenes from Tosca or Manon Lescaut — something to fulfill the expectations raised by Puccinian melody from the very first chord.
La Rondine is an appetizer, or tapas perhaps — it's not a full entrée, never mind dessert.
John Yohalem
image=http://www.operatoday.com/RONDINE_Gheorghiu_as_Magda_.png image_description=Angela Gheorghiu as Magda [Photo by Ken Howard courtesy of The Metropolitan Opera] product=yes product_title=G. Puccini: La Rondine product_by=Magda: Angela Gheorghiu; Lisette: Lisette Oropesa; Ruggero: Roberto Alagna; Prunier: Marius Brenciu. Conducted by Marco Armiliato. Metropolitan Opera. Performance of January 3. product_id=
Above: Angela Gheorghiu as Magda

All photos by Ken Howard courtesy of The Metropolitan Opera.
Posted by Gary at
2:55 PM
Revisiting the Rare, in Search of a Surprise
By ALLAN KOZINN [NY Times, 6 January 2009]
It may seem perilous for an ensemble to build its repertory mostly on rarities and forgotten works, particularly if the group at least implicitly promises that its discoveries are worth a listener's attention. Often music sinks into oblivion for a reason. Can there really be enough obscure high-quality work to fill out a program just about every other week?
Posted by Gary at
6:21 AM
Bayreuth: Sieben-Jahres-Verträge für Wagner-Schwestern
[DiePresse.com, 5 January 2009]
Die Verträge der neuen Leiterinnen der Bayreuther Festspiele, Eva Wagner-Pasquier und Katharina Wagner, sollen auf sieben Jahre befristet werden. Dies erfuhr die Deutsche Presse-Agentur dpa am Montag aus Kreisen des Verwaltungsrats. Die Vertragsentwürfe sind demnach bereits mit den Halbschwestern abgestimmt worden und werden derzeit von den Gesellschaftern der Bayreuther Festspiele GmbH geprüft.
Posted by Gary at
5:35 AM
La Rondine, Metropolitan Opera, New York
By Martin Bernheimer [Financial Times, 2 January 2009]
La Rondine, back at the Met after a 72-year absence, is Puccini's most eclectic sort-of-masterpiece. Completed in 1917, it makes knowing references - some musical, some dramatic - to Lehár's Lustige Witwe, Verdi's Traviata, Johann Strauss's Fledermaus and, yes, Puccini's Bohème. For a fleeting in-joke, it quotes Richard Strauss's Salome. The commedia lirica vacillates shamelessly yet elegantly between artificially sweetened verismo and sentimental kitsch. Yet, if performed with taste and style, it can be engrossing.
Posted by Gary at
2:33 AM
I listened to every Handel opera - and lived
Emma Pomfret [Times Online, 31 December 2008]
This was the Christmas that Handel stole. The year my Advent candle became "the Handel candle", burning down the days of an epic musical challenge: to listen to all of George Frideric Handel's 42 operas. In three weeks. Was it humanly possible? Or would it be the nightmare before, during and after Christmas?
Posted by Gary at
12:36 AM
January 4, 2009
PUCCINI: Turandot — Wien 1961
Music composed by Giacomo Puccini (1858–1924). Libretto by Giuseppe Adami and Renato Simoni based on Turandot, Prinzessin von China (1802), Johann Christoph Friedrich von Schiller's adaptation of Turandotte (1762) by Carlo Gozzi.
First Performance: 25 April 1926, Teatro alla Scala, Milan.
| | |
| --- | --- |
| Principal Characters: | |
| | |
| Princess Turandot | Soprano |
| The Emperor Altoum, her father | Tenor |
| Timur, the dispossessed King of Tartary | Bass |
| Calaf, the son of Timur | Tenor |
| Liù, a young slave-girl | Soprano |
| Ping, Grand Chancellor | Baritone |
| Pang, General Purveyor | Tenor |
| Pong, Chief Cook | Tenor |
| A Mandarin | Baritone |
| The Prince of Persia | Silent role |
| The Executioner (Pu-Tin-Pao) | Silent role |
Setting: Peking in the distant past.
Synopsis:
A Mandarin announces that any prince seeking to marry the Princess Turandot must first answer three riddles. If he fails, he must die. The latest suitor, the Prince of Persia, is to be executed at the moon's rising. In the crowd is Timur, banished King of Tartary, who is reunited with his son, Calaf, who he thought died in a battle. The Prince of Persia passes on his way to the scaffold and the crowd calls upon the Princess to spare him. Turandot bids that the execution proceed. As the death cry is heard, Calaf, transfixed by the beauty of the Princess, strides towards the gong that announces a new suitor. Turandot's ministers, Ping, Pang and Pong, try to discourage Calaf. Timur and Liù (who is in love with Calaf) also beg him to reconsider, but he strikes the gong and calls Turandot's name.
Ping, Pang and Pong lament Turandot's bloody reign, hoping that love will conquer her icy heart and peace will return. They think longingly of their distant country homes, but the noise of the populace gathering to hear Turandot question the new challenger brings them back to reality.
The people, eager for another execution, have gathered in the square. The Emperor asks Calaf to reconsider, but he refuses. Turandot describes how her ancestor was dishonoured and killed by a conquering prince; the cruel trial her suitors have to undergo is revenge for that crime. Turandot asks Calaf three riddles, which he answers correctly. Turandot begs her father not to give her to the stranger, but to no avail. Calaf, hoping to win her love, offers Turandot a challenge: if she can learn his name by dawn, he will forfeit his life.
Calaf hears a proclamation: on pain of death, no one in Peking shall sleep until Turandot learns the stranger's name. Ping, Pang and Pong try unsuccessfully to bribe him to learn his secret. As the mob threatens him, soldiers drag in Liù and Timur. Calaf tries to convince the mob that neither knows his secret. Liù declares that she alone knows but will never tell. She is tortured, but remains silent. Impressed by such endurance, Turandot asks Liù's secret: "Love" replies Liù. Fearing that she will weaken under torture Liù seizes a dagger and kills herself. The crowd, fearful of her dead spirit, forms a funeral procession. Left alone with Turandot, Calaf first reproaches her for her coldness and cruelty, then kisses her. Feeling emotion for the first time, Turandot weeps. Now sure of his victory, Calaf reveals his identity. Before the assembled crowd, Turandot announces the stranger's name: it is Love. As Calaf embraces her, the court hails the power of love and life.
[Synopsis Source: Opera Australia]
Click here for the complete libretto.
Click here for the complete libretto (English translation).
Click here for the complete text of Turandot, Prinzessin von China.
image=http://www.operatoday.com/Turandot_costume.png image_description=Giacomo Puccini: Turandot audio=yes first_audio_name=Giacomo Puccini: Turandot
WinAMP or VLC
first_audio_link=http://www.operatoday.com/Turandot1.m3u product=yes product_title=Giacomo Puccini: Turandot product_by=Altoum: Peter Klein; Calaf: Giuseppe di Stefano; Liù: Leontyne Price; Mandarino: Alois Pernerstorfer; Pang: Ermanno Lorenzi; Ping: Kostas Paskalis; Pong: Murray Dickie; Timur: Nicola Zaccaria; Turandot: Birgit Nilsson. Wiener Philharmoniker; Chor der Wiener Staatsoper. Francesco Molinari-Pradelli, conducting. Live performance, 22 June 1961, Wien.
Posted by Gary at
10:50 AM