From the House of the Dead: Munich Opera Festival
And how the work suits such an approach; in many respects, the deconstruction has already been done. Probably Janáček's greatest opera, indeed his greatest work of all, it is no accident that it is the one Pierre Boulez chose to conduct, towards the end of his life. Alas I never heard that live, although in 2014, I would see Patrice Chéreau's production in Berlin. That was, of course, a fine piece of theatre, as indeed was Krzysztof Warlikowski's Covent Garden staging , seen earlier this year. Castorf, however, revelling in its fragmentary nature - for it is in many respects his own - triumphantly, I should say dialectically, offers the strongest sense of a whole I have seen or could imagine. By taking it as it is, Castorf's team and a magnificent cast, aided greatly by Bavarian State Opera forces under Simone Young in the finest performance I have heard from her, alert both to the needs of the minute and of the greater architecture, present and represent the opera as it is and might be. Quite without sentimentality, they write and rewrite, igniting and reigniting that Dostoevskian redemptive spark that is both present and absent throughout, depending when and where one looks and listens, how and with what one pieces together one's own narrative, musical and dramatic.
Photo credit: Wilfried Hösl.
We are in Russia - no doubt of that. It is Russia at a dark time - again no doubt of that. (When, however, was that not the case, save for a few years under Lenin, and even then…?) But is it a 'real' Russia? And what indeed could so impossibly naïve a formulation mean? Live camerawork performs all manner of tasks, questioning our ability to comprehend, to view, to narrate, whilst making it all the more necessary that we try to do so. There is little doubt concerning the realism - until, that is, a true Carnival of the Dead comes amongst the prisoners and the prison. Magic realism? Perhaps, but if so, it is the blackest of magic to follow, perhaps even to sublate, the blackest of comedy and (non-)redemption. Whereas, in his Siegfried and Götterdämmerung , Castorf took us to an alternative historical path for the GDR, an alternative that turned out not to be so very alternative at all, (Al)Exander Platz still a commercial, post-socialist wasteland, Wall Street still failing to burn, here we seem perhaps to have joined the USSR for an alternative 1930s.
Or have we? Trotskyist hints abound: the rabbit hutch (many thanks to my friend Sam Goodyear for having pointed out the connection), Mexico too ('Partido liberal', we read on one of many historical and/or imaginary signs), a film advertisement (in Spanish), starring Alain Delon. (Hang on, if we are in 1972…?) Even a carnival bird Aljeja, splendidly sung by Evgeniya Sotnikova, seems both to suggest and to disavow that possibility. Or are we, was I, confusing him/her - here most definitely 'her' - with the Prisoner with the Eagle, or his eagle? What might that mean here, whether the confusion or the eagle? Russia or the USSR, however, it certainly remains, even down to the affinity - which seems to have been overstated by some - with Aleksandar Denić's Walküre set (Azerbaijan, 1942) . What does a sign for Pepsi Cola in English and Russian tell us? And what, at the end, does the English poster invitation to travel to the USSR as a holiday destination mean, not least in such appalling circumstances? Is it a joke, as is perhaps suggested by the presence of a Ring crocodile? Stop trying to ascribe meaning to everything: is that not what, as an imprisoned intellectual, one is compelled to do? Are we to see the future and will it to work, or perhaps indict it? Who knows? We shall never make the journey, just like so many of those prisoners, yet unlike, perhaps, Gorjančikov, who thinks he has something written in his head. Like Dostoevsky, like Trotsky, like Castorf, like our writer, Alexandr Petrovič Gorjančikov, we write and rewrite. So too does the action all around, on stage, on film, seen and unseen; so too, of course, does the orchestra.
Photo credit: Wilfried Hösl.
It is complicated, yes; how can a fragmentary drama with so many 'characters' or at least people not be? But it is also visceral, direct. Violence we see, we feel, whether we like it or not, be it in the Guard's sadistic flagellation (a truly nasty Long Long, almost a match for the still nastier Governor of Christian Rieger) or in the metal of the steppes' orchestra. Opera too, even in this most inhospitable of circumstances, is reborn. If the Wanderer seemed to have been an inspiration for our noble prisoner's initial journey to this camp, Peter Mikuláš capturing both intelligence and a certain camouflaged nobility, then it is the Wotan of the second-act Walküre monologue who comes to mind in that of Šiškov. That is partly a matter of Bo Skovhus's searing portrayal, quite the most powerful performance I have seen and heard from him in a long time. But everyone involved has played a role in putting these pieces together, in constructing something from these musico-dramatic shards. 'A mother gave birth even to Filka,' after all - and we know it, because, like Šiškov, he sings, not least in this devilish incarnation from Aleš Briscein. So too, earlier, do Don Juan (an outstanding Callum Thorpe) and his pseudo-Leporello (another excellent performance, this time from Matthew Grills), in a play-within-a-play. That, thanks to Castorf's lengthy experience with and rejuvenation of post-dramatic commentary, seems more of a play-in-itself than I can recall - until, once again, it does not.
Evgeniya Sotnikova as Aljeja. Photo credit: Wilfried Hösl.
For, like Don Giovanni, this is redemptive within and without, or seems to be: as I said, it takes life and drama as they are. A (post-)religious consciousness is at work here. It also, perhaps, suggests what they might be, or at least what one day, when the revolution comes again, the revolution to which we cling no matter what, we might hope it to be. The noble prisoner leaves, though, so most likely not. He has used, learned from his experience; so, we imagine, have we. The carnival of (Russian) death continues. There is a chink of something uncertain. In the blackest of comedies, we might even think it light. Humanity even - though are we not all now post-human(ist) as well as post-dramatic? Who knows, who cares? This human comedy and tragedy of which we are part rolls on, just as it did for those Calderón-like figures of a reimagined Salzburg World Theatre in the celebrated post-war Furtwängler Don Giovanni. The final scene alienates - like Mozart's. And yet, like that too, it moves (us). We have experienced something, even if we have not a hope in our living hell of learning what it may have been. We have, like this Gorjančikov, written a work of sorts in our head. No one will read it or even remember it, perhaps it would be impossible for anyone to make sense of its difficult, even nonsensical fragments; yet that spark of creativity, of art, of that which Marx just as much as Schiller considered made us human, has flickered. At least we think it did. Perhaps. Or at least we thought it did. Once. Perhaps. We return, like Gorjančikov, like Trotsky, to watch the post/non-human (non-)drama of the rabbits in their hutch, caged like us and yet (to the sentimental?) more free. Perhaps.
Mark Berry
Leoš Janáček: From the House of the Dead
Alexandr Petrovič Gorjančikov: Peter Mikuláš; Aljeja: Evgeniya Sotnikova; Luka Kuzmič (Filka Morozov): Aleš Briscein; Skuratov: Charles Workman; Šiškov: Bo Skovhus; Big Prisoner, Prisoner with the Eagle: Manuel Günther; Little Prisoner, Bitter Prisoner: Tim Kuypers; Governor: Christian Rieger; Old Prisoner: Ulrich Reß; Čekunov: Johannes Kammler; Drunk Prisoner: Galeano Salas; Cook: Boris Prýgl; Smith: Alexander Milev; Pope: Peter Lobert; Prostitute: Niamh O'Sullivan; Don Juan (Brahmin): Callum Thorpe; Kedrill, Young Prisoner: Matthew Grills; Šapkin, Happy Prisoner: Kevin Conners; Čerevin, Voice from the Kirghizian Steppes: Dean Power; Guard: Long Long. Director: Frank Castorf; Set Designs: Aleksandar Denić; Costumes: Adriana Braga Peretski; Lighting: Rainer Casper; Video: Andreas Deinert, Jens Crull; Live Cameras: Andreas Deinert, Stefaniue Katja Nirschl; Live Editing: Jens Crull; Dramaturgy: Miron Hakenbeck; Revival Director: Martha Münder. Bavarian State Opera Chorus (chorus master: Sören Eckhoff)/Bavarian State Orchestra/Simone Young (conductor). Nationaltheater, Munich, Monday 30 July 2018.

image=http://www.operatoday.com/Munich%20Hofd%20title.jpg image_description=
From the House of the Dead
: Munich Opera Festival product=yes product_title=
From the House of the Dead
: Munich Opera Festival product_by=A review by Mark Berry product_id=
Photo credit: Wilfried Hösl
Posted by claire_s at
3:53 AM
August 2, 2018
Haydn's Orlando Paladino in Munich
Speak to the audience in Munich's Prinzregententheater it certainly seemed to - rightly or wrongly. I could only wish that both the work and those of us in the audience who thought otherwise had not been treated with such condescension. That may sound reactionary. Perhaps indeed it is; perhaps all that matters is that those many people who enjoyed such an 'entertainment', to use a properly eighteenth-century word, did indeed enjoy it. Perhaps. Let me, however, try to explain why I found this, much fine singing notwithstanding, a somewhat dispiriting experience.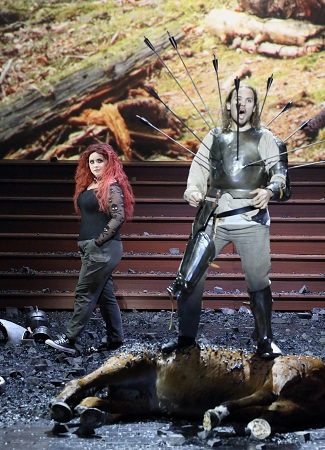 Tara Erraught (Alcina) and David Portillo (Pasquale). Photo credit: Wilfried Hösl.
No one, I think, would claim Nunziata Porta to be one of opera's greatest librettists; this is not a Da Ponte, a Wagner, or a Hofmannsthal. Nor indeed a Metastasio. However, his libretto here is, by the same token, likely to be underestimated, precisely because of where his talents lay. His principal occupation at Esterháza was to adapt texts, including provision of insertion arias. (If you do not know any of Haydn's, for obvious reasons far less widely known than Mozart's, then they are well worth discovering.) And that is what he did here, on a larger scale, with Orlando Paladino, helping Haydn create a rather extraordinary work, a dramma eroicomico after Ariosto. Its skill lies not just in parodying Ariosto, indeed not primarily in that at all, but in permitting Haydn to do so and indeed to parody much else besides: often wryly, subtly, sometimes more overtly - here, at least in one particular instance, in Pasquale's 'Ecco spanio', Ranisch worked highly successfully with libretto and music. Otherwise, I am afraid, far too little of that came through - which was surely something a skilled production might have seen as its purpose or at least a good part of it.
Dovlet Nurgeldiyev (Medoro) and Adela Zaharia (Angelica). Photo credit: Wilfried Hösl.
Yes, one might respond, but what if an audience does not understand the conventions of late-ish eighteenth-century opera seria? Do we not need to find a way of leading many listeners in? We probably do, or at least in certain circumstances it might be a good idea. (Heaven forfend we might actually expect some work from an audience; nevertheless, if I do not read Russian, I do not claim the problem to lie in Pushkin.) A similar problem, after all, seems often to be experienced with Così fan tutte, which very few seem to understand - or, more to the point, take the trouble to try to understand. (Sometimes it is not 'all about you'.) By all means, though, lead us in, show us what the opera is or might be about. Ranisch, however, seemed to have no interest whatsoever in doing so. Not unlike Christof Loy in his unforgivable Salzburg Frau ohne Schatten , albeit less aggressively, the message seemed to be: 'forget about this; I do not like this story very much, so here is another one'.
Alas, Ranisch's new story seems to me only slightly less banal than Loy's. For all the filmic creativity - undeniable in its way, if hardly groundbreaking - what we have ultimately is a new, less than captivating, tale of a married couple who own a cinema. One of them is at least partly gay and fantasises about the handsome Rodomonte (or perhaps the actor/singer who plays him). When technical problems cause an explosion in the cinema, he takes the opportunity to wander into the scenes on screen to learn a bit more about himself. A huge amount of silly running around, pulling faces, and so on, detracts entirely from the opera and at best has one wonder what on earth is going on. Now there may well have been a way, even within this particular metatheatrical framework, to engage with the work, to do more of what I have suggested it might. It really does not seem, though, to happen here. A pair of actors, 'Gabi and Heiko Herz', seem the most honoured here. Ironically, however, the banality of their story, the striking Cinema Paradiso homage in Falko Herold's designs notwithstanding, throws one's attention back towards the singing, if only out of desperation. We end up with another tired old cliché, that eighteenth-century opera other than Mozart's is 'really' only about singing. Orlando Paladino and Haydn thus found themselves doubly damned.
Gabi and Heiko Herz. Photo credit: Wilfried Hösl.
Such might have been less the case, had it not been for Ivor Bolton's rigid, often hard-driven conducting, which paid little attention, if any, to Haydn's harmonic rhythm, living if indeed it lived at all only in the moment - perhaps not so ill-suited a complement to the production. The playing of the Munich Chamber Orchestra was in itself excellent, however. One longed for it to be let off its leash, though, not least for the strings to be permitted greater vibrato. There seemed little doubt that they longed for that too. Nevertheless theirs was fine playing, woodwind solos especially joyous. For the real thing, though, turn on record to Antal Doráti - or even, should this be your real thing and you can somehow stand the weird perversities, to Nikolaus Harnoncourt. Those perversities may eclipse formal understanding, or at least the communication thereof, but at least they seem less generated on auto-pilot.
Edwin Crossley-Mercer (Rodomonte) and Heiko Herz. Photo credit: Wilfried Hösl.
It was, then, to recapitulate - more of such formal understanding from the conductor, please! - from the singers that considerable pleasure and insight was to be gleaned. Mathias Vidal as Orlando trod a fine line, sensitively and stylishly, between bravado and acknowledged weakness. So indeed did all the male singers; such, not without a pinch of what we might anachronistically think feminism, is indeed the point. Edwin Crossley-Mercer's diction was not always clear as it might have been, especially in so small a theatre; however, his dark tone proved full of allure - increasingly compromised allure. Dovlet Nurgeldiyev, for me one of the true discoveries of the evening, offered almost heartbreaking tonal beauty, whilst also making as much of the words as the production permitted. Likewise his intended, Adela Zaharia. David Portillo, a supremely versatile singer, finely attuned both to line and style, impressed greatly as Pasquale; his aforementioned aria was probably the highpoint of the entire evening. Elena Sancho Pereg, as Eurilla, proved very much his equal: a fine foil, but also a spirited character in her own right. Tara Erraught's rich mezzo Alcina left one longing for more. It was she, above all, who brought moments of true drama to proceedings. Perhaps she, instead, should have been directing and/or conducting.
Mark Berry
Haydn: Orlando Paladino Hob.XXVIII:11

Angelica: Adela Zaharia; Rodomonte: Edwin Crossley-Mercer; Orlando: Mathias Vidal; Medoro: Dovlet Nurgeldiyev; Licone: Guy de Mey; Eurilla: Elena Sancho Pereg; Pasquale: David Portillo; Alcina: Tara Erraught; Caronte: François Lis; Gabi and Heiko Herz: Heiko Pinkowski, Gabi Herz. Director: Axel Ranisch; Conductor: Ivor Bolton; Designs: Falko Herold; Choreography: Magdalena Padrosa Celada; Lighting: Michael Bauer; Dramaturgy: Rainer Karlitschek. Statisterie and Opera Ballet of the Bavarian State Opera.
Prinzregententheater, Munich, Sunday 29 July 2018.
image=http://www.operatoday.com/Alcina%20and%20Angelica.jpg image_description=Haydn's
Orlando Paladino
: Munich Opera Festival product=yes product_title= Haydn's
Orlando Paladino
: Munich Opera Festival product_by=A review by Mark Berry product_id= Above: Tara Erraught (Alcina) and Adela Zaharia (Angelica)
Photo credit: Wilfried Hösl
Posted by claire_s at
8:55 AM
Donizetti's 'Regiment' Ride the Highway: Opera della Luna at Wilton's Music Hall
The vitriolic Berlioz, still smarting from the failure of his own Benvenuto Cellini after just ten performances at the Opéra, may have dismissed Donizetti's La Fille du Régiment as trivia, but the rest of Paris was smitten when the opera premiered at the Opéra-Comique on 11th February 1804. Even the previous dismissive Mendelssohn had to admit Donizetti's talent: 'I am afraid I like it … Do you know, I should like to have written it myself.'
Opera della Luna's Artistic Director certainly takes the Donizetti's 'little opera' seriously: his production, first seen in 2014 and now slightly revised, treats the opera with a light and loving touch as it transfers the action from the nineteenth-century Swiss Tyrol to the desert mountain ranges of California during the 1950s.
The abandoned baby, Marie, is not found by a corps of military muscle but by a gang of leather-clad bikers, The Regiment, who are engaged in non-mortal combat with their rivals, The Wild Cards. Think Donizetti meets West Side Story. Ian Wilson's lighting fetchingly contrasts the heat-laden cobalt blue sky with the ochres of the sun-cracked scorched earth from which a few prickly catci sprout. When we transfer, in Act 2, to the Berkenfield Mansion, where Marsha plots with Dulcie Crackenthorpe to marry off her reclaimed 'niece' to Dulcie's son, the desert makes a surprisingly effective home for the grand piano.
The cast's American accents - in both the spoken text of Clarke's colloquially spicy translation and in the musical numbers - are convincing and consistent, and none more so than the warm drawl of Charles Johnston as Sulpice, the President of The Regiment. Despite the aggressive posturing and knuckle-rings, beneath the beard and bandana this Sulpice is a gentle giant, and Johnston's warm baritone was one of the pleasures of the evening - equalled by his easy presence of stage and dramatic nous. He leads a Regiment who are full-voiced and proud, but whose bikes are as big as their hearts - despite the rather limiting dimensions of Wilton's' stage, they glide their wheels in neatly choreographed formations with just the right blend of elegance and heft - and the stoical, shoulder-sobbing upon the enforced departure of Marie is both touching and side-splitting.
Charles Johnston (Sulpice), Jesus Alvarez (Tonio), Elin Pritchard (Marie). Photo credit: Robert Workman.
Johnston's wise Sulpice also brings out the best in Katharine Taylor-Jones' Marsha Berkenfield. Glammed up in primary hues and polka dots, Taylor-Jones steers clear of caricature and uses her beautifully soft and sweet contralto to show us Marsha's scruples and sincerity.
She and Robert Gilden's Mr Hortensius make a well-balanced double-act. Gilden's butler minces gloriously, surreptitiously swigging a generous glug of martini from the 'survival-flask' when his mistress is lost in the mountains, and shows suave sycophantic servitude when ensuring the guests at Marsha's soirée have their champagne cravings satisfied. He has the audience in stitches during the Act 2 overture with his oh-so-precious peeling of the paper which wraps the oranges destined for the silver fruit-bowl atop the Steinway, polishing each with a brisk flick of limp wrist and feather duster. Just how he swallowed the banana that made a surprise appearance in the fruit-box, without apparent moving his mouth, I can't begin to imagine.
As the titular 'foundling-with-fathers', Elin Pritchard wore her denim and biker-boots like a natural, her gleeful grin and terrific pout evincing tomboyish charm. Marie's manic passion for wheels took a musical turn - who knew that a singer's rolled 'r's could accelerate into a "V-rrr-oom!" "Wow!" Marie screamed in the middle of her singing lesson, when Sulpice distracted her from her middle-class aspirational pastimes with the gleaming illustrations in his copy of Ultimate Road Machines.
In fact, memories of home released pent-up frustrations and repressed energies. Literally hemmed in by gawky hem-line, Pritchard stepped on the gas and threw restraint - and her lesson music - to the wind. She kicked off her cotton socks and turned Sulpice's motorbike encyclopaedia into a tennis racket: poor Hortensius' face said it all, as his carefully arranged orange tier was dismantled and hurtled into the audience. Pritchard enjoyed herself immensely: she has a powerful soprano which is full of colour and can hit the highs and make them sing. She moved easily through climbs and peaks and negotiated Donizetti's curlicues smoothly, but was equally persuasive in Marie's quiet aria of reflection as she tries to reconcile herself to her fate.
Charles Johnston (Sulpice), Jesus Alvarez (Tonio), Elin Pritchard (Marie). Photo credit: Nathan Cox.
In his clean chinos and white ti-shirt, Jesus Alvarez' Tonio - a Hispanic immigrant in this production - was certainly out-of-place and an unwanted interloper when he wandered into the bikers' turf territory. Alvarez played it safe initially, but demonstrated plenty of stamina and courage, nailing each and every one of his high Cs which were well-supported and ringing. The vocal acrobatics turned out to be an initiation rite into the Regiment's gang and he passed with flying colours, slipping with ease into his black bomber jacket. Alvarez didn't always persuade me with a legato line, and his English diction was less than ideal, but he blended well in the ensembles and was an endearing Tonio.
Dulcie Crackenthorpe's ghastly snobbishness was brilliantly captured by Philip Cox, and he was matched for 'style' by Jeremy Vinogradov's self-loving Mrs van der Gelder. As her husband, the Governor of California, Richard Woodall sported a finely sculpted moustache and showed surprisingly balletic grace on the ballroom floor.
Conductor Benedict Kearns had his finger securely on the Donizetti pulse and his tempi were wisely judged, only occasionally leaving the singers rushing a little to catch up. The eleven instrumentalists were not housed in the most comfortable performance space - the percussion and bass were shoved into a cupboard under the balcony - but this didn't hamper the orchestral performance one iota or dampen their obvious enjoyment of the music.
The overture was confidently played by the small ensemble, kicking off with a ringing horn solo from Kevin Elliott. It took Kearns a while to get the measure of the Hall's acoustic, and the string ensemble was a little bass heavy at times, but if the orchestra overshadowed Marsha and Hortensius in their opening duet (for reasons of length and logic the opening chorus of Tyrolean citizens praying for safety while a battle between their countrymen and marauding French troops is one of Clarke's neat excisions) then the players soon dropped down to achieve a more judicious balance. There were expressive solos from oboist Peter Facer and cellist Joanna Twaddle, deepening the pathos of the more sentimental dramatic moments.
Jeff Clarke and the terrific cast gave us a joyful evening of sunny high-spirits. No wonder the bikers let rip with some ritual air-punches and it was smiles all round at the close. Once again, Opera della Luna served up some seriously slick comedy.
Claire Seymour
Donizetti: The Daughter of the Regiment
Marsha Berkenfield - Katharine Taylor-Jones, Mr Hortensius - Robert Gildon, Sulpice - Charles Johnston, Marie - Elin Pritchard, Tonio - Jesus Alvarez, Dulcie Crackenthorpe - Philip Cox, The Governer of California - Richard Woodall, Mrs van der Gelder - Jeremy Vinogradov, The Regiment (Tulip - Richard Belshaw, Beef - Philip Cox, Tiny - Graham Stone, Crispy - Martin George, Rabbit - Jeremy Vinogradov, Lump - Richard Woodall); director - Jeff Clarke, conductor - Benedict Kearns, set designer - Graham Wynne, costume designer - Maria Lancashire, lighting designer (for Wilton's) - Ian Wilson, Orchestra of Opera della Luna.
Wilton's Music Hall, London; Tuesday 31st July 2018.
image=http://www.operatoday.com/Elin%20Pritchard%20and%20Charles%20Johnston%2C%20Photo%20Credit%20Nathan%20Cox%20%20%281%29.jpg image_description=
The Daughter of the Regiment
: Opera della Luna at Wilton's Music Hall product=yes product_title=
The Daughter of the Regiment
: Opera della Luna at Wilton's Music Hall product_by=A review by Claire Seymour product_id= Above: Elin Pritchard (Marie) and Charles Johnston (Sulpice)
Photo credit: Nathan Cox
Posted by claire_s at
7:15 AM
August 1, 2018
Bernstein Bemuses in New Mexico
Perhaps a few too many.
In yet another revision of this melodious, mettlesome stage work (Scottish Opera - Old Vic version), SFO has taken an approach somewhat akin to A Funny Thing Happened on the Way to the New World. To that end, renowned director Laurent Pelly has unleashed a cornucopia of no holds barred comic busy-ness in dogged pursuit of high toned "entertainment," pure and simple. That Mr. Pelly and his tireless company succeeded in that pursuit, is evidenced by the near constant ripples of laughter elicited from the packed house.
To this viewer, they weren't arguably always the right laughs. Pelly couldn't seem to settle on one style and so he incorporated many: slapstick, operetta, cinematic honesty, caricature, romcom, farce, sitcom, and perhaps most wearing, an overly melodramatic, deliberately artificial mugging to the audience. That his willing performers delivered all this with utter commitment cannot be disputed, and I must report they were rewarded for their abandon with frequent ovations.
Candide began life as a notorious 1956 Broadway flop, most notable for a Columbia cast recording, which showcased Bernstein's eclectic score. After the show languished for some years, Harold Prince devised a 105-minute version with a new libretto by Hugh Wheeler, which was such a success at Brooklyn Academy of Music in 1973 that it moved to a two year hit Broadway run in 1974. It was this lean and mean, immersive, interactive production that won me over, and I saw it four times. At last this meritorious score was married to a sassy, witty book and its previous problematic lack of Voltairean elan and coherent focus were fixed! Mais, attendez-vous. . .
Now that it was a hit, opera houses expressed interest in a proscenium version in two acts. Prince (and others) agreed to continue to tinker with it and began adding back in characters and songs that were extraneous. The temptation seems to have been great to re-order and darken the plot, resurrect good numbers that are nevertheless unnecessary, and worst, give enjoyable characters a second or third number that deserve to remain in Lenny's trunk.
From the original recording, "Quiet" and "What's the Use?" made a return to no real dramatic advantage other than being interesting tunes aurally. "The Venice Gavotte" had been re-purposed in 1974 as a delightful expository quartet (with lyrics by Stephen Sondheim, no less). That quartet still opens the show, but now we have an action-stopping Gavotte in Act II as well, reprising that material. I have not yet seen any company make the weak material of "Dear Boy" and "We Are Women" work, no matter how high the caliber of the collaborators.
My curmudgeonly posturing notwithstanding, having made their choice of edition, SFO has wholeheartedly embraced it, lavishing it with superlative production values. Chantal Thomas has provided a versatile, constantly morphing set design that is a director's dream: all levels, steps, insets, parapets, nooks, crannies and foldouts. In deft obeisance to Voltaire the look is based on a wide variation of oversized books and pages, some curled, some flat, some arched at ever changing relationship to one other. On many occasions, appropriate vibrant projections designed by 59 Productions effectively decorate the white surface.
Director Pelly has also designed the fantastical costumes as is his wont, and they are over-the-top delightful. Many of them are pale colors, decorated with written lines from (one must presume) the novel Candide. The leading characters are a colorful lot, ranging from down at heel bag lady to kept courtesan to bastard peasant to conniving royalty and all points in between. Cunegonde's ravishing red gown was alone worth the price of admission.
Duane Schuler has contributed his usual fine lighting design, with a couple of breathtaking "white light" isolations that momentarily sobered up the comedic proceedings. Only the follow spot work was a bit variable and not always on the mark. A small quibble about the projected translations: On more than one occasion, the timing prompted the audience to react to reading the joke before the performer actually finished the joke. A little fine-tuning would benefit actor and spectator alike.
Harry Bicket led an enthusiastic and accomplished reading of the score. With "Bernstein at 100" celebrations in full swing, it is impossible to avoid the overplayed overture this year, and while the pit had the notes in place, the effervescence needed found the pace just a notch too slow. Once past the opening, Maestro Bicket found all the zing, irony, and occasional pathos in Bernstein's accomplished pastiche. The cast could really not have been better.
In the title role, Alek Shrader is giving his finest performance I have experienced to date. The music is a perfect fit for Mr. Shrader's sweet, well-schooled tenor, and he caressed many a limpid phrase with poised, honeyed tone. But his Candide is anything but a crooning, put upon patsy, and he finds endless comic energy to inform his character and delight the audience. He throws himself unselfconsciously into everything he is asked to do, and if his Valley Girl jumping up and down, hands flailing in indecision didn't make you laugh the first time, perhaps it will the fourth or fifth. He will die trying.
Indeed, his animated physical feats are so manic, that it is completely stunning when Alek remains stock still as the finally defeated Candide, perfectly crafting the penultimate selection, "Nothing More Than This," the evening's finest musical moment. In a perfect production, this might be moved to an earlier moment in the show, so it doesn't somewhat upstage "Make Our Garden Grow," almost identical in sentiment and immediately following. But no matter, Alek Shrader made musical magic with both.
Brenda Rae was as spirited, determined, and sexed up a Cunegonde as you could ever wish to see. It goes without saying that she sings brilliantly, with excellent diction, secure tone, and absolute assurance in all registers. Cunegonde's music often lies in the lower middle, and while Ms. Rae's attractive instrument doesn't live there naturally, she negotiated those passages with skill and aplomb.
It is above the staff that this soprano soars, and her flights of fancy in the form of effortless coloratura in a definitive "Glitter and Be Gay," all the while performing comic physical moves, stopped the show with roars of approval. It is to her credit that Brenda always found a way to make the character likable, even as she is driven by self-serving motives.
The Old Lady makes a delayed appearance in the script but when Helene Schneiderman finally arrives, she threatens to dominate her every scene. For such a diminutive woman, Ms. Schneiderman exudes an oversized presence, sporting a hilarious Mittel-European accent and a rich, full-bodied mezzo. Her traversal of "I Am Easily Assimilated" was a highlight. As the chorus moved around oversized costume plate cards missing the "head," she daffily moved from one to the other to position her face to complete the picture.
The party trick of having one performer quadruple as Voltaire, Pangloss, Cacambo, and Martin held no challenge for the versatile baritone Kevin Burdette. Moving effortlessly between the four, Mr. Burdette found a highly distinctive accent and demeanor for each, modulating his well-schooled vocalizing to create a slightly different sound as required. As the more-often-than-not narrator, he kept the evening's pace on sure and fleet footing.
Baritone Jarrett Ott was a delectably preening Maximilian, his pomposity underlined by his virile, buzzy singing. (Spoiler Alert) Mr. Ott was especially amusing in several scenes of fluid sexuality and cross-register chirping. Gina Perregrino made the most of her stage time as the slutty servant girl Paquette, her attractive mezzo contributing solidly to the musical mix and her perky personality keeping darker moments light.
Richard Troxell brought his steely, resounding tenor to bear on four roles that are not always assigned to the same performer: James, Captain, Governor, and Vanderdendur. Mr. Troxell's ringing top and cleanly articulated phrases served all of them well, but "Bon Voyage" was his personal best. Tenor Abraham Bretón had an amusing turn as the overbearing Jew Don Issachar and also embodied the Crook. Rounding out the cast, bass-baritone Erik van Heyningen successfully impersonated the hypocritical Cardinal Archbishop of Paris and also played Ragotski.
The Apprentice Artists' chorus made an inestimable contribution to the evening's success, tirelessly doubling countless characters, seldom off stage, possessed of boundless energy, and singing wondrously under the direction of Chorus Master Susanne Sheston. Rarely is so much asked of an opera chorus in a staging, and director Pelly has gotten incomparable results from this invaluable, talented group of young performers.
At the end of the day, there is much to celebrate in this highly accomplished, thoroughly professional version of Candide. If it may not be everyone's "best of all possible worlds," it is a highly infectious, enthusiastically rendered piece of musical theatre. Any questions?
James Sohre
---
Cast and production information:
Voltaire/Pangloss/Cacambo/Martin: Kevin Burdette; Baron/Grand Inquisitor: Anthony Robin Schneider; Candide: Alek Shrader; Baroness: Kathleen Reveille; Maximilian: Jarrett Ott; Cunegonde: Brenda Rae; Paquette: Gina Perregrino; James/Captain/Governor/Vanderdendur: Richard Troxell; The Old Lady: Helene Schneiderman; Don Issachar/Crook: Abraham Bretón; Cardinal Archbishop of Paris/Ragotski: Erik van Heyningen; Conductor: Harry Bicket; Director and Costume Design: Laurent Pelly; Set Design: Chantal Thomas; Lighting Design: Duane Schuler; Projection Design: 59 Productions; Chorus Master: Susanne Sheston
image=http://www.operatoday.com/Candide_SantaFe.png image_description=Scene from Candide [Photo courtesy of Santa Fe Opera] product=yes product_title=Bernstein Bemuses in New Mexico product_by=A review by James Sohre product_id=Above: Scene from
Candide
[Photo courtesy of Santa Fe Opera]
Posted by james_s at
9:30 PM
Santa Fe Floats a Beauteous Butterfly
Ana María Martínez is an operagoer's dream of a Cio-Cio-San. Ms. Martínez not only has the role utterly securely in her voice, but has also anchored it deeply in her soul. She starts out coloring her substantial soprano sweetly, tremulously, deferentially, and thanks to her slim figure and youthful movement, she manages to actually suggest the naïve fifteen year old bride.
With her first utterance of Act II, however, she suggests a world-weary weight in the instrument that at once conveys her subsequent anguished plight. There is no aspect of this complex characterization that escapes her, and her complete command of the score's demands places her squarely on the very short list of the role's most accomplished practitioners.

Video courtesy of LA Opera
Moreover, her alluring creamy middle register rises seamlessly to gleaming heights above the staff. Her ravishing climactic top notes rang out in the house, and her flawlessly controlled, floated pianissimo effects were just as stunning. The rich dramatic detail and nonpareil musicianship that Ana María Martínez brings to this performance is the beating heart of the evening's persuasive music making.
It is to Joshua Guerrero's great credit that he actually imbues the caddish Pinkerton with genuine appreciation of his young bride, a believable soft spot for her boundless devotion, and a deeply felt remorse for the heart-rending results of his feckless decisions. Mr. Guerrero's youthful, burnished tenor handily meets all the demands of the role. While his technique is even throughout the range, the very highest notes in Act I seemed slightly veiled. With his re-emergence in Act III, the voice displayed a more pointed gleam that made his contribution to the trio and especially his impassioned Addio, fiortio asil moments of unsurpassed beauty.
Martínez and Guerrero were successfully joining a "work in progress." The rest of the solid cast was continuing in the run that began earlier in the season. The fluid sense of ensemble and the admirable execution of the business were so natural, that it appeared this cast had collaborated together for months.
Mezzo-soprano Megan Marino was a revelation as the faithful Suzuki. Ms. Marino's plummy, stirring low register blossomed effortlessly into an easy middle and upper range that not only imbued The Flower Duet with limpid glamour, but also rang out with urgent conviction as she tries to compel the steadfast heroine to seek another life course. Her staunch, sometimes salty impersonation was a force to be reckoned with.
Nicholas Pallesen proved a fine asset as the well intended, if dithering consul Sharpless. Mr. Pallesen sports a beefy, rolling baritone that he deploys to good effect. He effectively communicated the character's vacillating intentions, paralyzing indecision and continually withering resolve. If there was an occasional lumbering phrase in the passaggio, his was an engaging traversal, replete with some stirring high notes.
Matthew DiBattista was a particularly self-serving Goro (the men don't come off so well in this piece, do they??). His oily insinuations were nonetheless wonderfully vocalized. Indeed, in the opening banter, Mr. DiBattista's timbre sounded more akin to Mr. Guerrero's leading man than the usual comprimario. His deliciously unctuous characterization was fully realized and relentlessly focused. As the Bonze, Solomon Howard seemed a force of nature, his powerful, rich bass booming out the character's damning disapproval.
Kenneth Stavert was a particularly imposing Price Yamadori, his stature and sturdy baritone boldly embodying the spoiled, pompous royal. Hannah Haggerty was given more to sing as Kate Pinkerton than is usual, and Ms. Haggerty's plush, attractive mezzo made the most of every opportunity. Stavert, Haggerty, and all of the Apprentice Singers shone in their brief solo assignments, with bass Colin Ramsey contributing particularly suave declamations as the Registrar. Youngster Paulino Rivera-Torres was a heart-tugging presence as Trouble, who startlingly executes a real coup de theatre at a critical dramatic moment. Susanne Shelton's chorus was a well-knit ensemble.
I have enjoyed many fine performances from the Santa Fe Opera Orchestra over the years but none has been quite as effortlessly radiant as this Puccini. Conductor John Fiore led such a stylish, colorful, committed reading that the band became another character in the drama. Maestro Fiore exerted awesome control of his forces, partnering wonderfully with the singers with the accommodating elasticity that they needed to "live" the tragic story. From the lush banks of strings to the characterful solo playing, the assemblage made a definitive case for Puccini's masterpiece.
There was more music than usual, with material included that the composer had excised. While it was all performed to a fare thee well and was interesting to experience, perhaps Puccini knew best, and the evening might have been even tighter without some of these rambling additions.
The revival of Lee Blakeley's production was uncommonly affecting. Matthew Ozawa has directed with a fine eye to defining each character's personal journey and their interaction with each other. The intriguing character relationships were evidently successful manifestations of subtext and background considerations. The recurring appearance and integration of an American flag yielded many of the shows most stirring moments.
Set designer Jean-Marc Puissant has devised a wholly effective environment. At curtain rise, only the frame of the house, flanked by selectively placed boughs of pink cherry blossoms. As the music begins, the cast brings on the props, and installs the sliding screens on house, as though Pinkerton may be having it built.
The loving, warm look at the close of Act I gave way in Act II to a worn down, sterile space, the blooming trees having been supplanted by the ugly installation of telephone poles and power lines running from down- to up-stage right. The desolation is further communicated by Rick Fisher's sensitive lighting design ranging from the soft hues at Act I's wedding, to the austere reality of Act II's grey day, to the dawning of false hope in Act III. Every lighting design here is brilliantly augmented by the natural dramatic effects of beautiful sunsets seen through the rear of the open stage and sporadic lightning. On this night we were blessed with both.
Brigitte Reifenstuel brought a wealth of invention and imagination to her richly varied costume design. After the attractive japonaiserie of Act I, Ms. Reifenstuel attired the heroine and her servant in severe blacks and grays, subtly suggesting that Cio-Cio-San may be more in mourning than she is in anticipation of her husband's return. When Butterfly sheds the dark colors to once more don her wedding gown, the effect is even more wrenching.
Thank you, Santa Fe Opera for giving the world this haunting, impeccably mounted, honestly conceived Madame Butterfly. For this viewer, it sets the gold standard against which all future renditions of this evergreen classic will be judged.
James Sohre
---
Cast and production information:
Cio-Cio-San: Ana María Martínez; B. F. Pinkerton: Joshua Guerrero; Suzuki: Megan Marino; Sharpless: Nicholas Pallesen; Goro: Matthew DiBattista; The Bonze Solomon Howard; Prince Yamadori: Kenneth Stavert; Kate Pinkerton: Hannah Haggerty; Trouble: Paulino Rivera-Torres; Butterfly's Cousin: Sylvia D'Eramo; Her Mother: Kaitlyn McMonigle; Yakuside: Benjamin Taylor; Her Aunt: Meryl Dominguez; The Imperial Commissioner: Erik van Heyningen; The Registrar: Colin Ramsey; Conductor: John Fiore; Director: Matthew Ozawa; Set Design: Jean-Marc Puissant; Lighting Design: Rick Fisher; Costume Design: Brigitte Reifenstuel; Choreography: Nicola Bowie; Chorus Master: Susanne Sheston; Original Production: Lee Blakeley
image=http://www.operatoday.com/Butterfly_SantaFe.png image_description=Graphic courtesy of Santa Fe Opera product=yes product_title=Santa Fe Floats a Beauteous
Butterfly
product_by=A review by James Sohre product_id=Above graphic courtesy of Santa Fe Opera
Posted by james_s at
12:32 PM